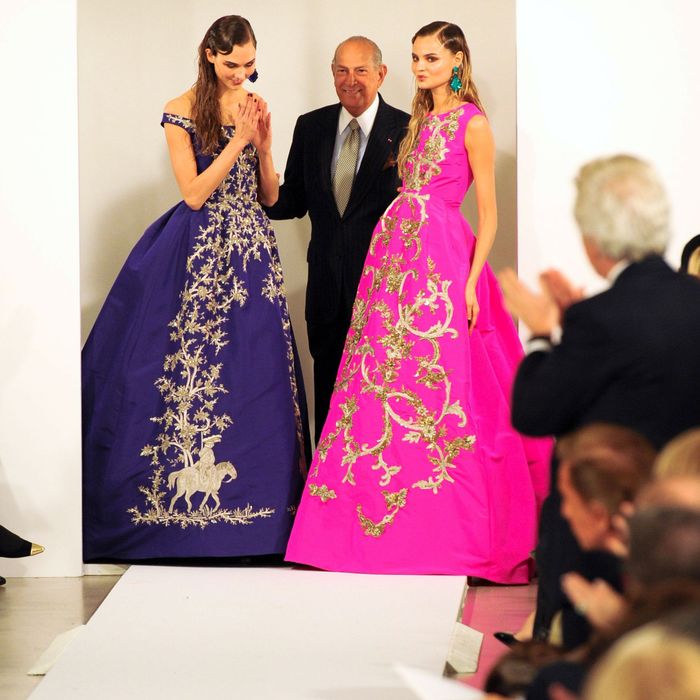 Photo: Jesse Lirola/BFAnyc.com/BFA NYC
Rumors that John Galliano will take a bow at the close of the Oscar de la Renta show turn out to be wildly exaggerated. I am bitterly disappointed when the designer does not emerge, leaving us to wonder how the audience, which includes everyone from Valentino to Rachel Zoe, would have received him. (Wild cheering? A few disdainful glances from people with long memories?)
 
Which is not to say that his presence isn't felt. As has been widely reported, Galliano has been working for (with?) de la Renta on this collection, and he is surely the mastermind behind the first ensembles, which are, like the best Galliano clothes always were, edgy and retro and slightly louche and incredibly refined all at once. (No one ever said he wasn't a genius.) Here, his deft hand is felt in slashy belted leather jackets over narrow skirts and bright ensembles caught out with curious bustles. But of course, Oscar is in the house as well (after all, it is his show): Following a brief interregnum that could be attributed to either designer and features big jewelry and chiffon hooded capes (Talitha Getty meets the Manson family), a third group is pure haute-bourgeois glamour; unlike the soigné Upper East Side woman who usually don these garments, these daughters of the landed gentry, who seem to have been up all night, sport trashy hair and Gothy makeup imbuing even the most restrained ODLR lace gown (their mom's?) with a slathering of dirty fun.
The unfortunate bodysuit last seen disappearing into trousers notwithstanding, the silhouettes at Rodarte are floppy and loose, giving you yet another reason to cover up with yet another of their biker jackets (because you don't have a white one! And the ones here are really big and cute!) In other news, the Mulleavy sisters suggest tie-dyed evening dresses, some of which have delicate beaded bodices, making the garments seem like one of those cheerfully discordant couples you always wonder about (what does she see in him? She's so sleek and chic, and he is such a hippie slob … )
 
Five meant-to-be-Parisian go-go dancers start the show at Anna Sui: It's the beloved if imaginary halcyon days of the mid-sixties, the soundtrack includes Leonard Cohen's "Suzanne" and Little Eva's "The Locomotion," both sung in French, and you half expect a miniskirted Megan to come out and reprise "Zou Bisou Bisou." The clothes, as ever, are bright and sassy with the occasional Biba-art-nouveau flip — wild flourishes like a fake fur coat made of turquoise and orange strips and a kelly green Escher-inspired op-art dress — all so sunnily rendered  that, unlike the experience at so many shows this week, it is impossible to come away grumpy.
 
If you have been looking for a bleached ostrich-skin pleated skirt, there is one at Proenza Schouler, where the palette is chiaroscuro, the wools frequently nubby, and the silhouettes short and architectural. But not all is so austere — there are also separates feature a squiggly pattern reminiscent of Keith Haring, for radiant babies far too young to remember the artist and his laughter in the dark.
See the complete Oscar de la Renta fall 2013 collection here.
See the complete Rodarte fall 2013 collection here.
See the complete Anna Sui fall 2013 collection here.
See the complete Proenza Schouler fall 2013 collection here.