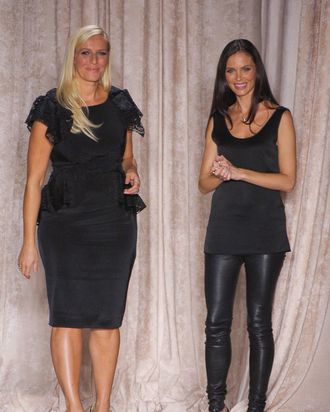 Karen Craig and Georgina Chapman.
Photo: Imaxtree
The beginning of Fashion Week is always a prime time f0r splashy announcements, and this season is certainly no exception. In the past 24 hours, no less than three different designers — Zac Posen, Vena Cava, and now Marchesa — have revealed plans for new diffusion lines. The former two labels are doing so in the wake of troubled times, both financial and otherwise, while Marchesa never has to worry about trivialities like money. But for designers Georgina Chapman and Keren Craig, whose princessy formal gowns are ubiquitous on red carpets, casual daywear remains an untapped market — until now. WWD reports that the label has a contemporary collection in the works with LF USA, the apparel company that never met a designer diffusion opportunity it didn't like. Titled Marchesa Voyage, the clothes are described by Chapman thus:
Something Keren and I had always wanted to do was more of a loungewear deal — the Marchesa in her palazzo.
Although they haven't nailed down the exact price points for what sounds like the costume closet from Aladdin (genie pants, furs, embellished denim, and embroidered scarves), Chapman envisions the line competing with the likes of 3.1 Phillip Lim and Alexander Wang. "Obviously we're a different aesthetic," Craig tells WWD. "But that's where we see it sitting." Edward Chapman, Marchesa's CEO and Georgina's brother, says that the expansion is part of a long-term goal to turn the label into a full-fledged lifestyle brand. Next up: flying carpets!