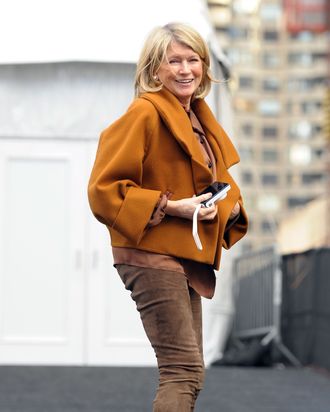 As scheduled, Macy's Inc. and Martha Stewart Living Omnimedia Inc. spent today in a New York courtroom, where the department store hopes to finally stop M. Stew from selling her home goods at J.C. Penney. The love triangle took shape in December 2011, when J.C. Penney bought 17 percent of Stewart's company without the consent of Macy's, who had an exclusive contract with her. In July, Macy's won a preliminary injunction that prevented Penneys from stocking Stewart's merch, but two weeks later, nothing changed, so Macy's decided to sue J.C. Penney too.
Supreme Court Justice Jeffrey K. Oing blocked off the next three weeks for a nonjury trial — maybe he doesn't want to share the Zesty Lemon Bars. From Bloomberg:
"Macy's contracted with [Martha Stewart Living Omnimedia] at a time when the MSLO brand was associated with the significantly downscale Kmart and Ms. Stewart was just being released from prison," lawyers for Macy's said in a pre-trial memorandum. "Taking losses at first, Macy's moved the brand in soft home goods upscale, a herculean task under the circumstances. Now defendants, in complete disregard of the Macy's agreement, seek to reap the rewards of Macy's work and to usurp the benefits of Macy's contract."
Don't drag Kmart into this. In return, Stewart is accusing Macy's of breach of contract and claims it "stocked and priced Martha Stewart products in a manner that favors private-label brands."
Bloomberg adds MSLO "has posted losses and decreasing revenue for four straight years, hurt by a drop in advertising demand, and analysts estimate the same for 2012. Its stock lost 44 percent of its value last year." Do Macy's and J.C. Penney read Bloomberg?