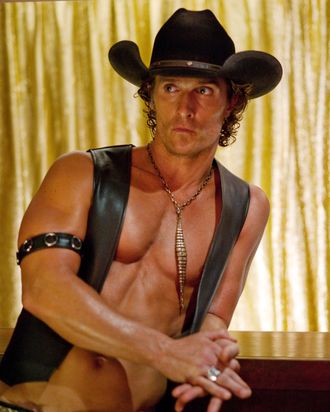 Photo: Glen Wilson/?2012 Warner Bros. Entertainment Inc.
Now, your Irony-Steeped Fashion Statement of the Day: Professional shirtless person Matthew McConaughey is creating a clothing line, WWD writes. Called JKL, the menswear brand is an extension of his charity, the Just Keep Livin Foundation, "dedicated to empowering high school students to lead active lives and make healthy choices to become great men and women," according to its website. McConaughey's first collection will debut in 150 Dillard's locations next month — it's exclusive there until fall — and ten cents for every dollar in sales is going to the foundation. (Let's pause to think about how Matt not only looks good, he does good.)
Brushed cotton/nylon utility pants will retail for $69; a polo shirt will sell for $49.50; cotton nylon shorts will be $59; long-sleeve woven shirts in cotton with security pockets will sell for $69.50 to $79.50; straight or slim jeans will go for $89.50, and there will be three lengths of swimwear, which will retail for $55 to $69.50. Another key item is the quarter-zip pullover with an updated shoulder, which will sell for $99, and there are also reversible Windbreakers.
Although McConaughey didn't actually design JKL (he brought on creative director Debora Annino), he helped develop the concepts. Certain pieces are water-repellent or quick-drying, and some provide UV protection, which are probably among the actor's priorities. Also:
"I like to be able to wear something that is appropriate for wherever the day takes me: to work, on a hike and then out to dinner. I like to take the formality out of the day's schedule and be ready for any off-road detour." In fact, he said, when he was brainstorming about what an apparel brand could represent, he jotted down notes. "One of the first things I had written down was 'from the jungle to the opera.' That's a bit of an exaggeration, but that's the idea."
Neither collaborator's name will appear on the garments. The actor told WWD, "As a kid, I wore J.C. Penney plain-pocket jeans because they were plain pockets. I didn't want anybody's name on my backside." He went on, "I want to be behind this, not in front of it. I'm the author, not the face or the definition." Anymore butt innuendos he'd like to add?