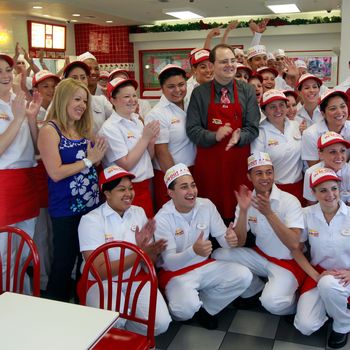 Photo: Michael Ainsworth/Corbis
Cult burger chain In-N-Out has managed to retain its indie, mom-and-pop status even though it has expanded over the past few decades to more than 200 locations and is now valued at more than a billion dollars. Similarly, its 30-year-old owner-heiress Lynsi Torres — the granddaughter of founders Harry and Esther Snyder and one of Bloomberg's secret billionaires — is a drag-racing, God-fearing relic the from burger stand's fifties Southern California beginnings.
Here's ten things we learned about the press-shy mogul from Bloomberg's piece.
1. She's been married three times … and is still a billionaire! That's more than a lot of wealthy male divorcés can say. A+ prenups.
2. Her father, Harry Guy Snyder, "inherited his father's passion for drag racing," but died of prescription drug overdose. His estate included 27 cars.
3. Torres inherited the racing gene, too. She declines all interviews and is only known on the drag-racing strip. "She competes in the National Hot Rod Association's Super Gas and Top Sportsman Division 7 categories, alternating between a 1970 Plymouth Barracuda and a 1984 Chevrolet Camaro, according to NHRA results."
4. She is married to Val Torres Jr., also a race-car driver.
5. She has no college degree and "little formal management training." Luckily, the company, which she gains full control of at 35, is structured so that she doesn't have to do much.
6. She is or was the CFO of a religious group, Healing Hearts and Nations, that goes on missions to Africa.
7. She has beef with a former In-N-Out executive, Richard Boyd, who claimed she and her brother-in-law had conspired to remove her grandmother from the company and Boyd as a trustee. He also accused her of trying to fire him because he was not a "man of God."
8. She responded to them in a letter to the editor of the Los Angeles Times.
9. She is the mother of twins.
10. She has a $17.4 million house "in the foothills of the San Gabriel mountains" with more than twice as many bathrooms as it has bedrooms (seven and sixteen).
Go read the rest of Bloomberg's story and get to work on the screenplay for your hot rod biopic.