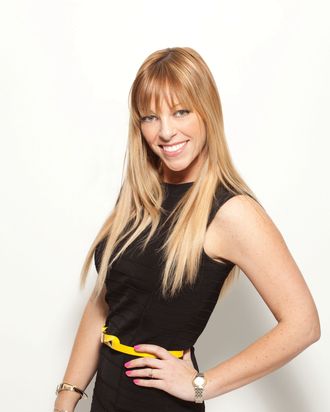 At this point, it's safe to say that nail art is more than just a passing phase. Painting them in one solid color is now as blasé as ice cream without sprinkles or an Oscar de la Renta collection without Galliano (may this never happen). From runway-inspired manicures to the hundreds of blogs devoted to nail-artists-as-celebrities, dropping major dollars and time on your talons is here to stay.
That's where Nail It! — a new nail-focused glossy debuting this week from DC Communications, a trade company that created Nail Pro for industry people — comes in. At the helm is editor-in-chief and Nail Pro alum Stephanie Lavery, herself a nail-art fanatic. "Everything we're telling the professional about salon sanitation, health of nails, I realized that no one was educating the consumer," she explained to the Cut. "It's been a dream of [publisher] Deborah Carver to have a consumer magazine, so the timing just seemed to be right with nails because they're exploding on the scene."
What do you think of all the at-home nail sets that offer salonlike manicures?
Well, I think it's great. There are certain people out there who want to do their nails themselves. It's like home hair color. Personally, because I've been with Nail Pro for so long and I feel so strongly about the industry as a whole, a part of that is the professional, actually going to the salon to get your nails done. I don't think that the at-home DIY like Ciaté and stuff is really taking the business away from a salon. I think it's a great thing for the industry in general because it gets nail art out there.
I noticed while flipping through the magazine that you cover hair, makeup, and a little bit of fashion, too. Will those sections get bigger?
It is going to be nail-focused, but we are going to expand on all the different beauty categories and a little bit on fashion and accessories, because nails are part of your overall look. Nails will fit into whatever you're wearing, or your hair, makeup, and skincare. However you're styling your outfit. We hope to, in the future, incorporate more of that.
You're California-based, but your beauty director, Karie Frost, is in New York. What do you think are the differences in nail polish trends between the two coasts?
I use to live in New York like six years ago, and I remember in Manhattan everyone wore short, natural, Essie-polished nails in a light pink. When I moved to California, I saw a lot more risk. At the time, it was a lot of short, black nails and glitter. Now I think that New York is definitely stepping up, they're starting to take the risks that Californians were taking with their nails. And Californians are even going beyond: There are salons on the West Coast popping up that are like these Japanese artists that do really crazy funky nail art, and that's becoming really popular out here.
Why do a print magazine as opposed to digital?
I've been in the magazine publishing industry my entire career and I'm a tried and true print person. I know some say it's dying, but I think people really like to have something in their hands. It's a great magazine to have at the salon, while consumers are getting their nails done. Eventually, we will probably take the magazine digital as well, but I think that especially with nail art there's something about flipping through a magazine and tearing out a nail art style that you really love and being able to bring it to your nail salon and being like 'Here, I really want you to do this.'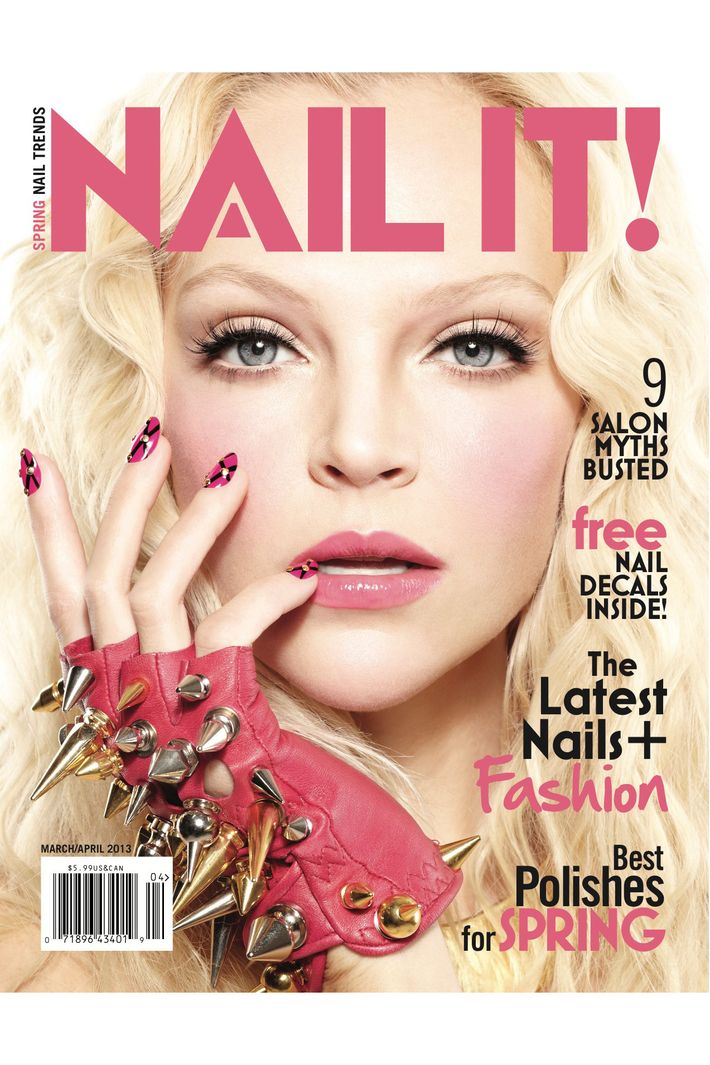 Nail It! has an anonymous dude column written by "Scott." It's a lot like Glamour's "Ask Jake." Is Scott real?
Yes, he is real. He lives in Los Angeles. Scott is a writer and we basically asked him to start paying attention to nail things. In future issues, we've given him assignments to do, to expose himself to nails and nail services. It's sort of him, for the first time, paying attention.
What's the most innovative nail art thing out there for consumers?
I think that the first thing that really got the consumer excited, because it was super-easy, were things like that shattered crackle polish, because all you had to do was polish your nails and it created this nail art. I think that really got the consumers interested in at-home nail art. I think things that Ciaté does, like with caviar and the new metallic foils, that is pretty revolutionary. Lastly, I think those nail-art appliques, like Sally Hansen's, are great. It's instant nail art, you don't have to do anything except fit this decal sticker to your nail.
Which celebrity do you think is ruling the nail art world right now?
On a consumer relatable level, like "I want those nails," Zooey Deschanel has done a great job with that. She does fun nail art on her short nails, which I think makes people stand up and take notice. Of course, people like Rihanna have always done amazing nails. Katy Perry, amazing nail art. They do things, they have longer nails, almond-shaped stiletto nails, which I think is a little more fashion-forward and aspirational.
What is a stiletto nail?
A stiletto nail is called stiletto because it's like the shoe heel which is really pointy. It's a long nail that comes to a point at the end.
I was just calling them the claw.
Well claw kind of has a negative connotation to it.
How is that practical?
You know, it's probably not. But it depends how much you want it. I see these women, these nail artists who come out of eastern Europe, who are truly artists, and they wear their nails impossibly long, impossibly sharp, in their everyday lives. It's amazing. Somehow they've managed to type on their phones and put on tights and don't have scratches all over their faces. So it's possible, but it's about how much you want it.