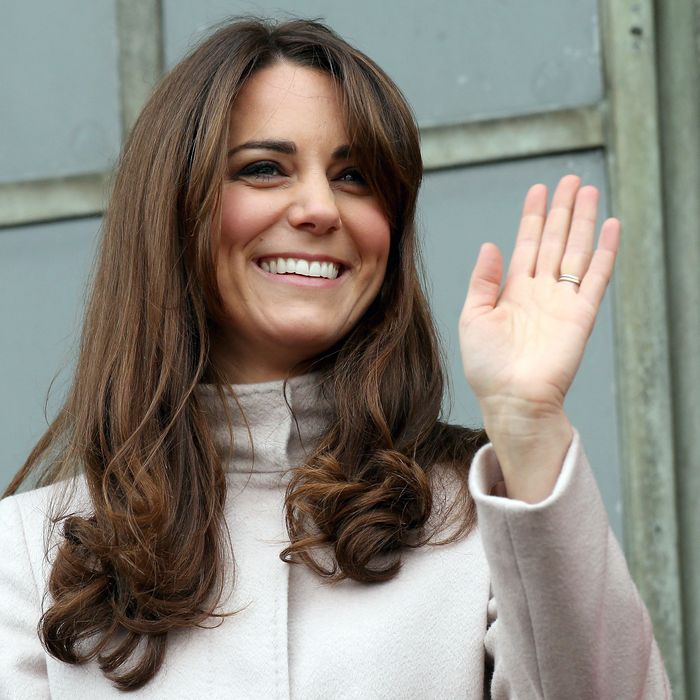 Kate Middleton.
Photo: Chris Jackson/Getty Images
Kate Middleton has made many unofficial outings lately, popping quietly into stores around London to browse jeggings, shoes, sweatpants, and sandwiches, but yesterday the palace announced that she will make her second formal public appearance since her pregnancy was revealed in December (her first was the unveiling of her controversial royal portrait at the National Portrait Gallery on January 11). In the meantime, she and Will are said to be on a "babymoon" in Mustique with her family, according to the Telegraph. So, she must really be feeling better.
Anyway, this next appearance is scheduled for February 19, and may very well mark Kate's momentous Bump Reveal Moment. She'll visit Hope House, a residential treatment center in London for recovering addicts supported by Action on Addiction, one of the charities she's involved with. During her various trips around town lately, she's been careful to bundle up in puffy coats and, in one case, a tartan poncho, so we haven't gotten to see anything — and chances are there's not much to show. Since she's due in July, she'll be about halfway through her pregnancy in two weeks, so maybe she'll do a Beyoncé-at-the-VMAs pose! Okay, she won't. But we can always dream.