Photo: Courtesy of Apiece Apart
The Brooklyn-based co-founders of Apiece Apart, the ethereal, minimalist-chic brand known for its "elevated basics," will both turn 35 next week, literally one day apart from each other. But for the kindred spirits turned co-designers, Laura Cramer and Starr Hout, their birthdays are about much more than sharing glorious slices of birthday cake two days in a row. Cramer and Hout also share their birthdays with their clothing brand, which will be ringing in its fifth year of existence with a much-anticipated return to the fashion scene from a two-year absence. "We conceived of Apiece Apart on our 30th birthdays, so it was an exciting benchmark," Cramer said. "We were traveling through West Texas and while we were out there, we were just so inspired by simplicity and the starkness of landscape and just really getting things down to their essence, and being together, we decided to apply it to a wardrobe."
The duo culled together their "monklike" aesthetic sensibilities and creative eyes to craft a spring/summer 2013 line bursting with pops of bright color, tailored shapes, and simple prints that they designed themselves, and an upcoming fall/winter 2013 line saturated with rich reds and cloudlike, homespun knits made for every type of woman. The inspiration for all of their looks: Scandinavian design meets Japanese Wabi-sabi. By mid-February, Apiece Apart's spring/summer line will appear in over 50 stores across the globe (Japan included), in boutiques like Creatures of Comfort, Steven Alan, and Maryam Nassir Zadeh. The Cut spoke to the two designers over the phone to hear their thoughts on their latest collections, being "sexy," Georgia O'Keeffe, and their appreciation for the everyday woman.
You have sneak peek photos for your fall/winter 2013 site on your blog. How did the collaborative process between you two unfold?
Laura: We met at NYU and we were both seniors at the time, and both of us had convinced our way into a computer programming course. So we were in a very small, specialized course together, and we met there and we instantly felt a kinship.

What were your personal styles like when you were both students at NYU and how have they evolved over the years?
Laura: Starr was very chic and very gorgeous. And I have maybe an idiosyncratic appreciation for bright color, so we always joke about this one swirling fuchsia coat I had [Laughs]. It did not survive the test of time.

Were you both involved in the fashion world before making the brand?
Starr: We didn't have a traditional path. We have had a handful of different kinds of very design-related jobs, but they're not like coming up through the ranks of Parsons and working for every company. I did art production and then I went on to assist Alex White at W. Even then, I knew that this was my dream — but you know, it sometimes takes a while to get all the ducks in a row. And Laura studied at Central Saint Martins eventually, too. We just had a full-on liberal arts education at NYU [first].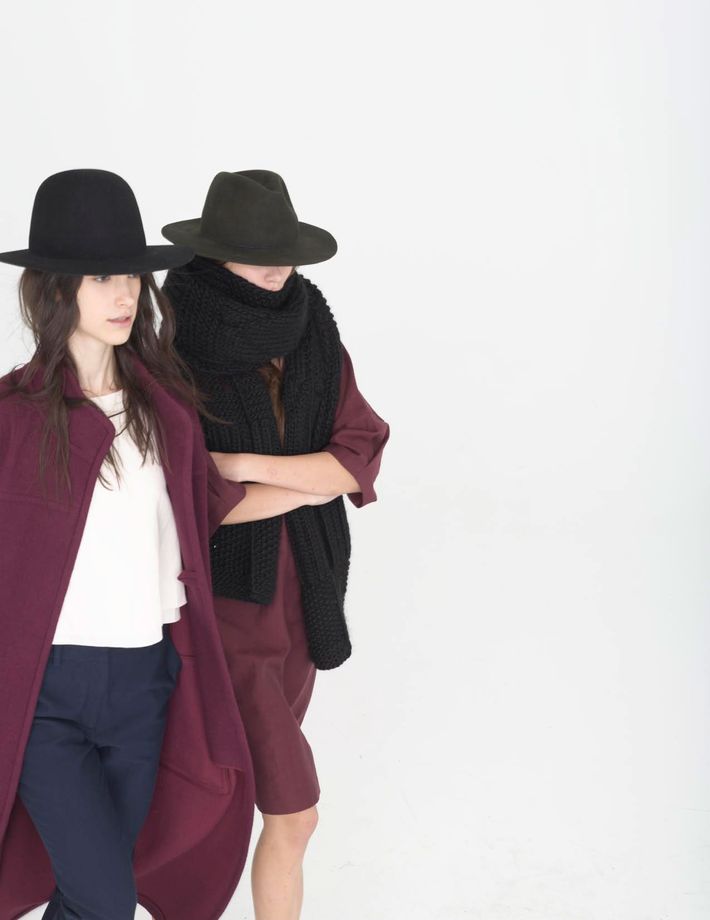 There was a two year gap period for Apiece Apart. What did you two do for the brand during those years?
Laura: We took that time to focus on our business. The origins were about focusing on an idea and a beautiful execution of that idea, but then we saw that we needed to be businesswomen and really guide this brand to a place where we could support it and it could support itself. 
Starr: The two years was really just such a gift for us, not only to look at the business, which has been so interesting, but to really think of what we want these objects to do in the world. We really started studying fabrics.

How would you describe your personal styles?
Laura: Oh, that's tough. Maybe clean, practical, a bit eccentric when it comes down to it. We always have a little joke that we're not interested in looking overtly sexy, but we know women want to be sexy sometimes, so we want there to be all the variations in our clothing. We have a certain monklike aestheticism. [Laughs.]
Starr: Yeah, I think for both Laura and I, doing "overtly sexy-girl" has never really [appealed to us] — it only goes so far. [Laughs.] I will go hiking in Apiece Apart, and I love that. [Laughs.] I think that is just so cool, and I wonder why more people don't hike in silk and linen. You don't have to hike in Patagonia always. You know, you can hike in your more normal stuff.

Who are some of your muses?
Laura: We find that women around us inspire us, and those are our mothers and our grandmothers, and you know, artists, and the people that we meet, and they span generations and different body types and we weave that all into our view. We have a joke that Georgia O'Keeffe is our inspiration for every collection. She embodies this pioneer spirit and this artistic edge, and this real aestheticism that we relate to, so I think that would be a really big one.
Starr: Rebecca Strand is another inspiration that we always love. Agnes Martin as well. It's a lot of artists, and oddly enough, a lot of them are older, and the reason why I think they're older artists is that they've devoted their lives to their craft and very decidedly chosen a life of creativity. There's a saying, Pocahontas has this thing where she says, "I am a woman of many names, but I know who I am."