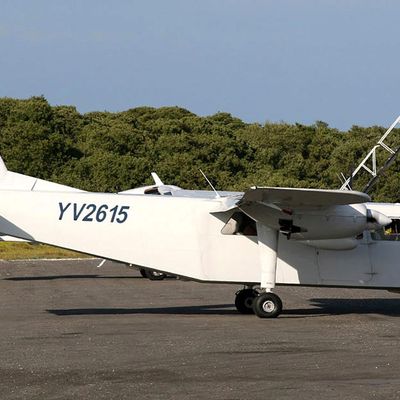 Photo: Ministry of the Interior and Justice Press Office/AP
Seven weeks after the BN2-Islander carrying Vittorio Missoni, his wife, two friends, and two pilots disappeared near Los Roques (an archipelago off the coast of Venezuela), "parts of a small aircraft were found at the west side of Curaçao during the afternoon" yesterday, the Curaçao Chronicle writes. The paper adds, "There are indications that these parts belong to" the Missoni plane. Italian news wire Ansa (via Reuters) reports that authorities are examining the pieces, discovered on a beach.
Since the airplane's January 4 disappearance, some luggage has washed ashore. The first, a bag of kite-surfing equipment recovered in Curaçao on January 10, belonged to tourist Giorgio Neri, who stowed his gear on the fashion mogul's plane. One month later, a reporter attempting to trace the flight's path came across a backpack tagged "Vittorio Missoni" on the Caribbean island of Bonaire and another suitcase labeled "Vittorio Missoni and Maurizia Castiglioni" was spotted "not too far" away.