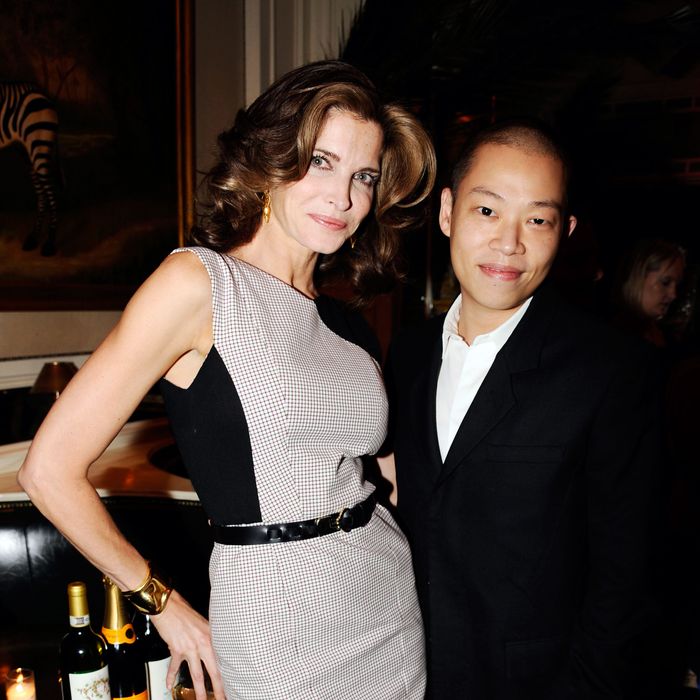 Stephanie Seymour and Jason Wu.
Photo: CLINT SPAULDING/Patrick McMullan
At last night's party honoring Jason Wu's inaugural gown, hosted by Glamour's Cindi Leive, guests were already taking precautions against potential flu-spreading. Wu himself forced everyone in his office to get vaccinated this year. "I made them, and no one has gotten sick! Knock on wood," he said. Meanwhile, Bergdorf Goodman's Linda Fargo says she's forgoing cheek kisses this season. "It's like, what am I double-kissing you for? I don't know you! And on that note, good night!" she said, waving and walking away sans embrace. Meanwhile, Chanel Iman recalled her epic hug from Michelle Obama, IMG Models' Ivan Bart discussed his hunt for the male Kate Upton, and Stephanie Seymour (Wu's spring 2013 face) discussed her sons' Twitter feeds. Read more in our slideshow.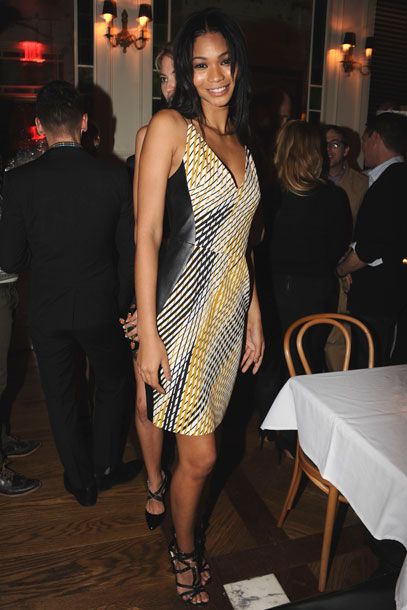 Chanel Iman
What was it like to meet the Obamas at the inauguration? Michelle gave me a huge hug that lasted, I felt, for like eight or ten minutes – it was so strong, and just so much love that she shared. – CHANEL IMAN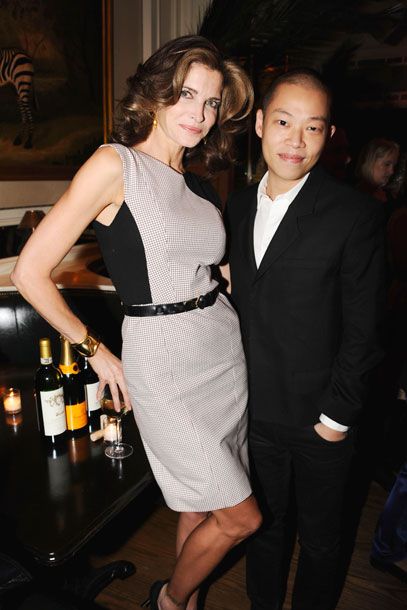 Stephanie Seymour, Jason Wu
Will you walk in Jason Wu's show, since you're the face of his new campaign? I would do it if he asked. I'll be going to Jason's show. And I'm doing a piece for Interview about Jason. Do you follow your kids' Twitter feeds? We've tried to cut down on that a little bit. They're kids. They're really fun, clever, loving, good kids – with a lot of style. They've been like that since they were little boys. They used to lay outfits out for me, even if I just had a parent-teacher conference. They would lay a dress out with a belt and the shoes and everything. And it's like, 'Petey or Harry, I can't wear this to your parent-teacher conference.' It'd be like a 1955 Dior dress with matching silk pumps. But I always let them do it because I thought it was really good for their imagination. – STEPHANIE SEYMOUR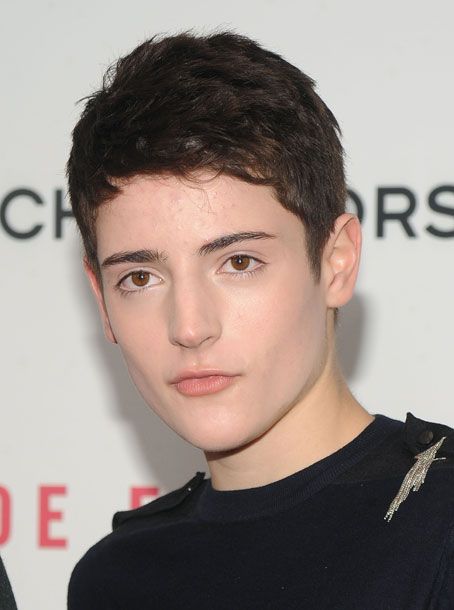 Harry Brant
Your mom was saying you used to pick outfits for her when you were little. Yes. When we were little?! We did just a couple nights ago! It was amazing. Leather Alaia dress, really, really tight, almost sheer, elastic stretchy top he did over it. A beautiful art deco piece with just plain black string – divine. Do you gossip with her about parties over breakfast the morning after? If I had the luxury of getting up the time that she does! I have to go to school at eight o'clock in the morning. I am hauling my ass back to Connecticut tonight, but we do have the nighttime talk, where I sit in her dressing room for hours and we talk and talk. – HARRY BRANT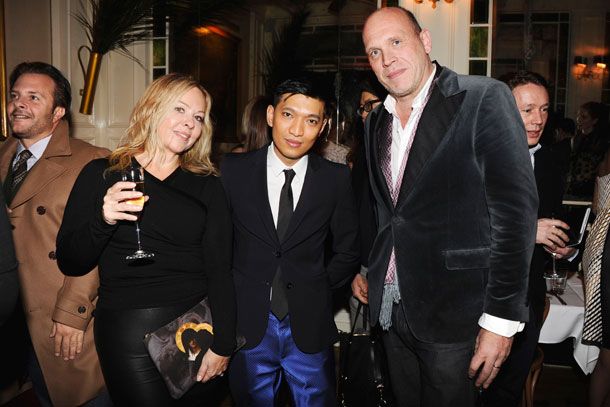 Susan Standen, Bryanboy, Dirk Standen
How are you staying flu-free this season? I get to sleep early. 10, 11 o'clock is my curfew. I wake up early. I exercise. And I always take Baroka, my vitamins. I might do a face mask. We'll see how it looks. I have them in two different prints, a black-and-white diagonal stripe and a fluorescent green psychedelic printed mask. And a white one, plain white. I don't know how it would look, though, sitting there and people taking your picture while you're wearing a mask. – BRYANBOY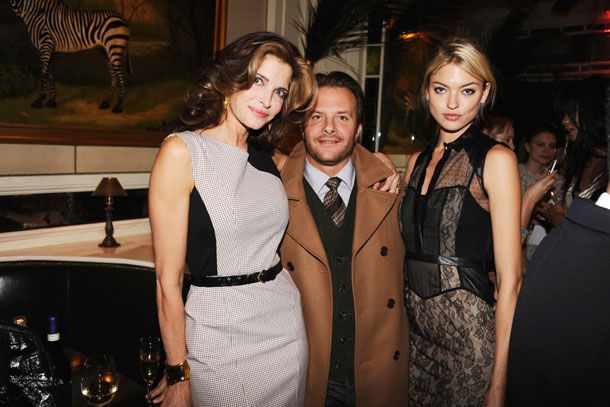 Stephanie Seymour, Ivan Bart, Martha Hunt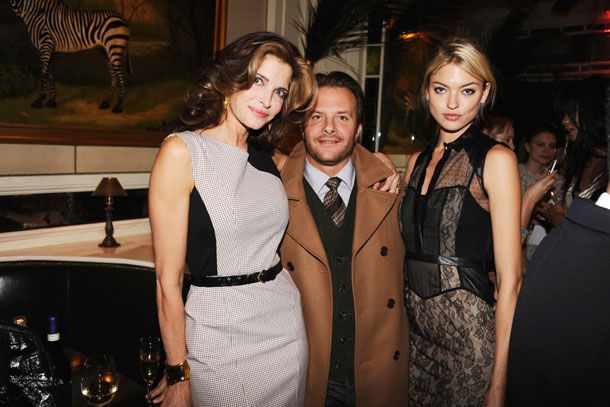 Stephanie Seymour, Ivan Bart, Martha Hunt
Your modeling agency [IMG] has done amazing things with Kate Upton over the past year. Any goals for 2013? My goal is to accomplish for a man what we did for Kate Upton. The 21st century is about the modern man, and the modern man needs aspirational, inspirational people. Kate Upton is inspirational and aspirational, and why shouldn't there be a male model that inspires people? I want to find the male model that connects to this generation, that's working the new media and has followers everywhere. Kate has done an extraordinary job with that, and I'm going to find the guy. Any favorite names right now? My favorite actor of the moment is Adam Driver. He's already Terry Richardson's fave. – IVAN BART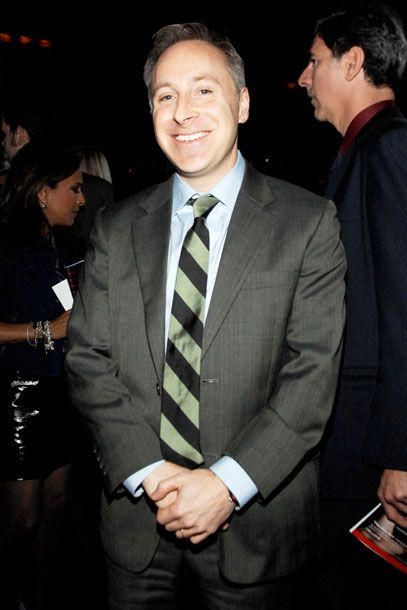 Jacob Weisberg
Do you and your wife [Deborah Needleman] ever edit each other's work? Frequently, of things we've written. We're both sort of available to help each other. But we don't collaborate on stuff, really. How does your life change during Fashion Week? I become a single parent. Hardest job in America, as George W. Bush used to say. But our kids are a little older now, so it's not so bad. But I'm definitely the custodial parent during fashion week, or fashion month. – JACOB WEISBERG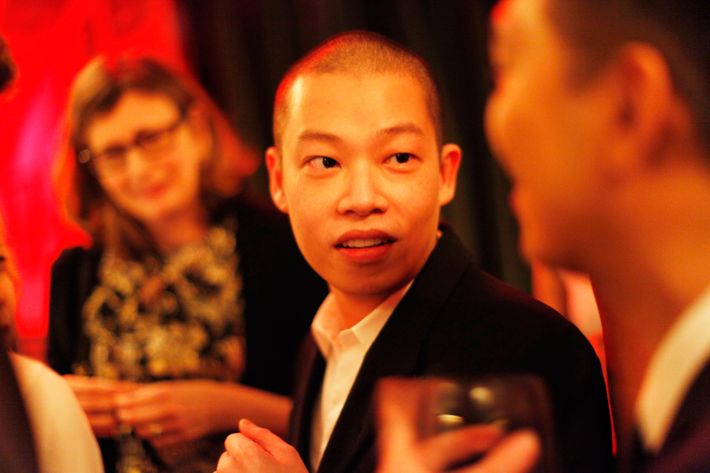 Jason Wu
What was the starting point for designing Michelle Obama's inauguration dress? I used a fabric that was custom-made for her. The inauguration is so momentous, it had to be something made just for the occasion. So I had the fabric made in Paris, and I collaborated with Kimberly McDonald to make a real diamond ring that the dress was draped around. – JASON WU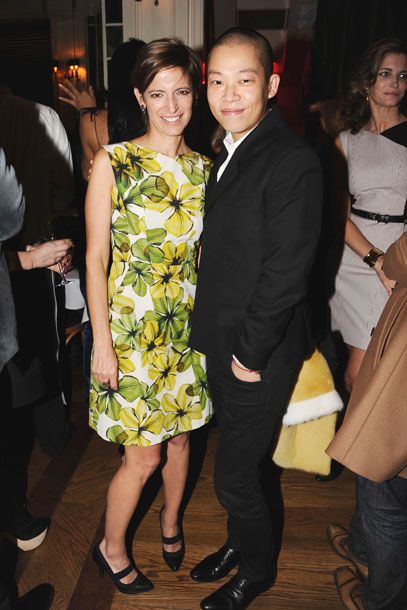 Cindi Leive
Any pre-fashion week rituals? I do a family dinner with my children. And I kiss them goodbye and tell them I'll see them in a month. We're actually having a family party the night of the Super Bowl. We have about a hundred people over with adults, kids, there's literally about a hundred adults and about fifty kids running around. I make an enormous, enormous chili, and it's a big family night. And then the next time I see my kids it's probably in March. – CINDI LEIVE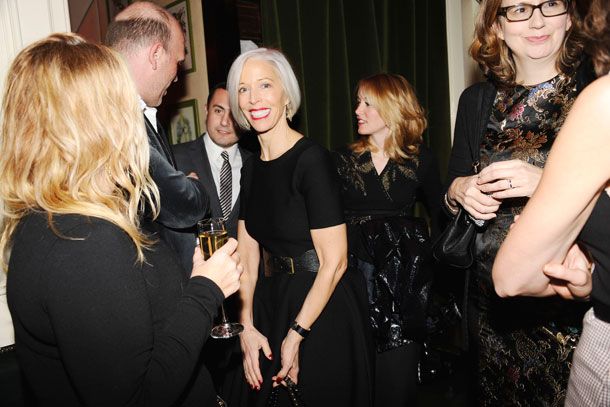 Linda Fargo
Are you worried about getting the flu at fashion week? I got a flu shot, but I know that won't prevent all the different strains. I'm really just going to try to say no – not as many hellos and kisses with people I know less well than my doorman. I mean it. It's like, what am I double-kissing you for? I don't know you! And on that note, goodnight! [Walks away without a kiss.] – LINDA FARGO