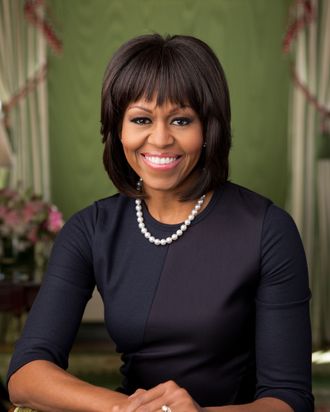 Michelle Obama.
Photo: Chuck Kennedy/The White House
The White House has posted Michelle Obama's second official portrait, complete with those "midlife crisis" bangs that'll make it wonderfully easy for historians to identify whether a photo was taken during the first or second term. Shot by Chuck Kennedy on February 12, the FLOTUS wears pearls and a cool asymmetrical dress with fitted three-quarter sleeves. (To compare: She wore a different set of pearls in her first official portrait, as well as a black sleeveless Michael Kors dress.) Here's our purely superficial breakdown of the picture:
Her necklace: It's not quite centered with her neckline, which makes the pose seem more relaxed.
Her hair: It's very glossy and bodified, but that center part makes her head look a tad butt-like. It's cool, though. We like butts.
Her nails: The polish is a nice neutral color, and the pearlescent finish sort of matches her necklace, which seems thoughtful.
Her makeup: She just doesn't need that much. Her lipstick is pretty, but those eyebrows — yikes.
Maquillage aside, she does look radiant, and strikes a good balance between modern and traditional. Consider this an appetizer for her impending Vogue cover, which will hopefully allow her to loosen up a bit.
Update: A rep for Reed Krakoff confirms that Michelle is wearing a navy silk and wool crepe dress of their design.