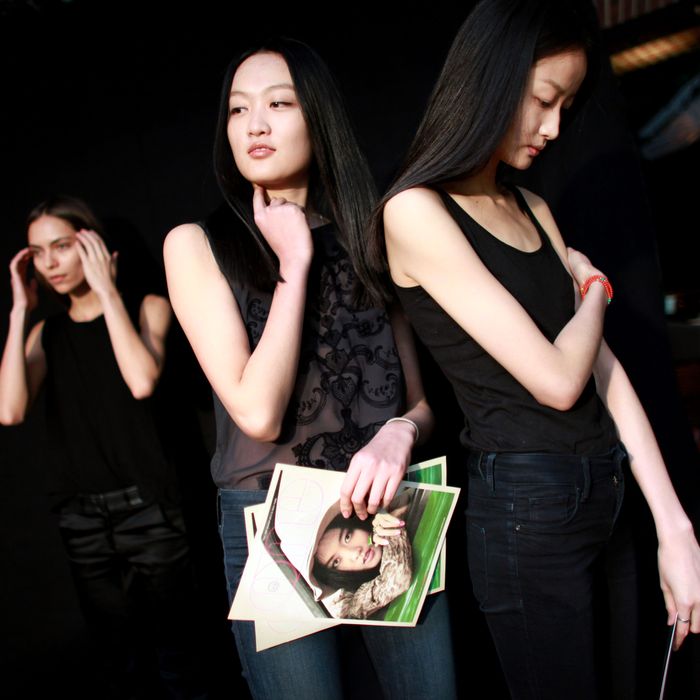 Models waiting for Andrew Weir.
Photo: Yana Paskova
Last Sunday afternoon, a line of models filed through the enclosed courtyard at the Hudson Hotel, shedding their heavy coats and hopping into the tall black heels they brought in their bags. One by one, they got their moment with Andrew Weir, head of casting and consulting agency ACW Worldwide and a fashion industry veteran. Every season, he holds massive a casting call in New York with over 400 models from the top twenty agencies to cast in shows like Jill Stuart, Thakoon, and Viktor & Rolf. About 15 percent of the girls he sees are brand new to the industry. "We do it just so we don't miss anyone," he explains. "You never know when you're going to find that girl."
Being that girl is the dream of every model who walks in the door, and I witnessed one such discovery when a brown-haired, dewy-faced Norwegian girl named Sofie Sjaastad got to the front of the line. "Is this your first time in New York?" Weir asked, peering at her. She said yes. "You're so cute!" he exclaimed in his warm Texas accent. "Are you excited? You should be. You're going to do some very good shows this season. I have a good feeling. How old are you?" She smiled shyly and told him she was 16. "Stay sweet," he instructed, putting a hand on her shoulder. "Take a walk for me, with big long steps and confidence. Be powerful." She straightened her shoulders and strode across the room.
"That right there, that's a star," Weir told me as he watched her steps. "That's one of those girls that you see. You've witnessed it." He handed me her card. "Follow her," he said.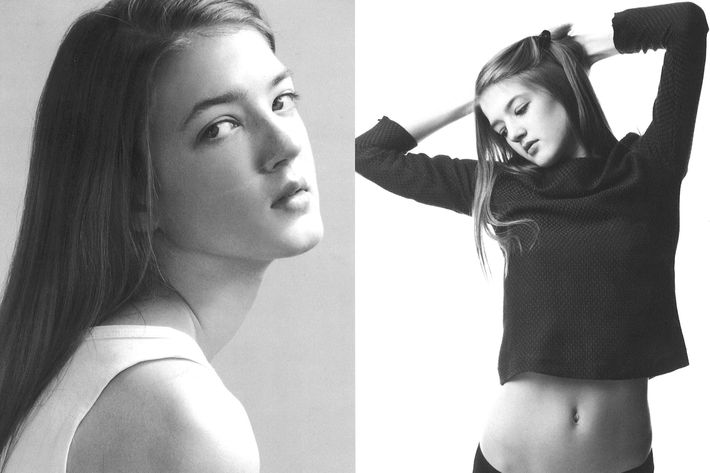 Of the hundreds he lays eyes on during the biannual event, Weir says he always finds three or four who go on to be incredibly successful. "Those three or four girls will do okay in New York, because New York never takes a big chance on a new girl, and then they'll go to London and Milan, and by the time they get to Paris they're doing every single show," he says. "It happened with Melodie [Monroe] a few seasons ago. We saw her in New York, and we knew she was great, and by the time she got to Milan she did Gucci, and now she's everywhere."

Weir's past clients include Giorgio Armani and Hugo Boss. He also consults for several brands and serves as a member of the CFDA Health Initiative, which recently organized an industrywide effort to enforce age requirements (16 and up) and other guidelines to encourage healthy behavior. But when I ask Weir if the initiative has changed the industry at all, he shakes his head. "Last year, I cast an underage girl by accident," he said. "We don't card models. They want us to, but I'm just like, really?"
As for a model's health, he can tell instantly if a girl is taking care of herself. "One girl came in today who is obviously sick. And I put her card aside, and I'm going to review it when I go home tonight, and depending on my relationship with her agent, I'll decide to either call her or Nian," he said, referring to Nian Fish, a respected creative director who was handpicked by Anna Wintour to lead the initiative. "Sometimes it's better to tell Nian and she handles it. But I can tell just by looking if a girl is sick."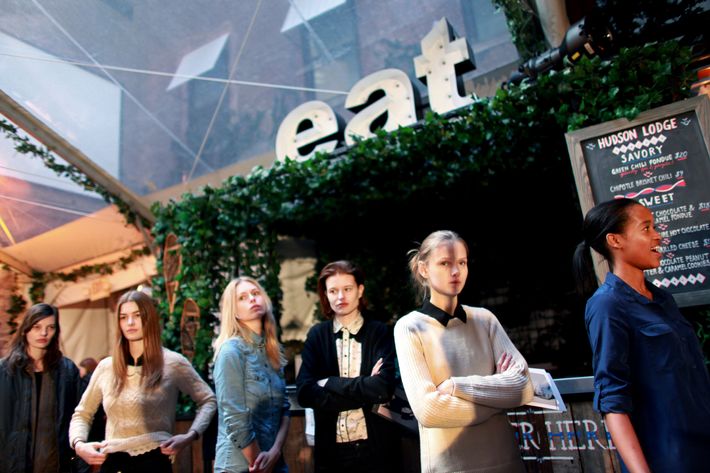 Weir runs a tight ship, and the line moves quickly. When each girl gets to the front, a member of Weir's staff hands him her "card," a piece of paper that shows her photo, name, agency, height, measurements, shoe size, and hair and eye color — and then Weir calls her name. He smiles, asks where she's from, exchanges a few pleasantries ("Where in Russia were you born?"), instructs her to walk halfway across the room and back ("Walk for me, baby"), and thanks her sincerely when she's done ("I'll see you soon!"). Wearing jeans, a Patagonia jacket, red sneakers, and sunglasses, he exudes a comforting, methodical calm.
"I keep telling them to walk to the cute boy in the hat," he says, pointing to a male model sitting about six yards away, "but they're all so nervous that they don't even see him and walk all the way to the wall."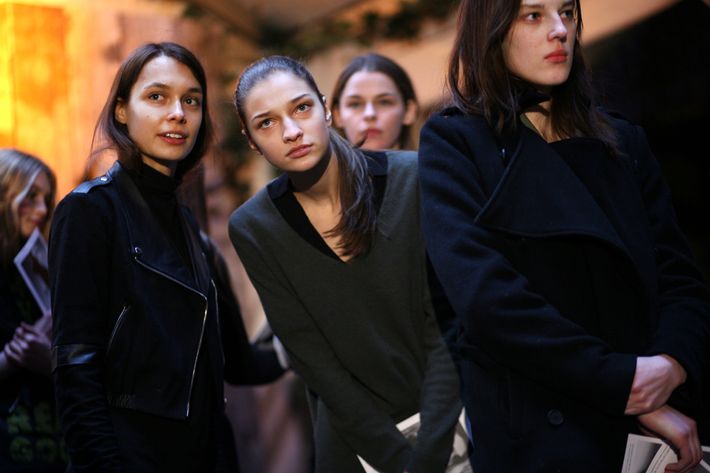 After each girl walks, Weir makes notes on a slip of paper about their look, walk, and whether they'd work for any of his clients. "First the question is, 'Are they even a model?' And then we think about which shows she might be right for, or which other projects we have coming up." He surveyed the roomful of eager faces. "At the end of the day, the pile gets very small."
He then staples his notes the back of their card, along with a Polaroid taken by his staff. "These are expensive to do," he said of the Polaroids, "but they're worth it. Because at the end of the day, this is what she looks like." For comparison, he held up a model's card, which is printed with a glamorous photo taken by her agency. "She does not look like that."