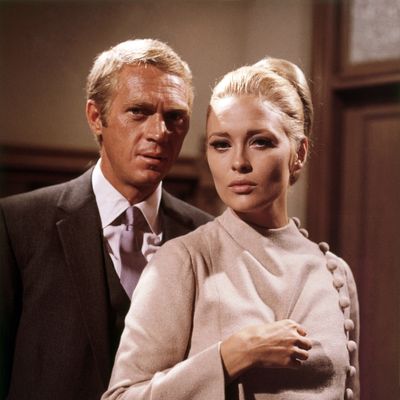 Start casting now.
Photo: Corbis
Twenty-nine-year-old Phivos Lampros Istavrioglou, a publicist for the French fashion label Moncler, was arrested on Saturday for stealing a $150,000 Salvador Dalí painting from an Upper East Side gallery last year. Glamorous! Perhaps he did so in a bowler hat and smuggled it off the roof in a helicopter, with Rene Russo hot on his heels and Faye Dunaway lurking in the shadows somewhere? Actually, the real story is even better.
According to the Post, Istavrioglou admitted that he stole the painting off the wall of the Madison gallery Venus Over Manhattan to prove that "there was a lapse in security … and he wanted to point it out." He allegedly walked in during business hours, stuck the painting in a shopping bag, and walked right out. Having proved his point, he rolled the painting into one of those cardboard cylinders and mailed it back to the gallery from Greece the following week.
So how did he get caught? Police got his prints off the cylinder and were able to identify him as the thief because he was already in the system for allegedly stealing a steak from Whole Foods in Tribeca in January. (Wonder where he planned to get the accompanying wine.) His recent arrest was even more ridiculous. From the Post:
[He] was slapped with handcuffs by NYPD detectives at about 1:15 p.m. Saturday after he walked off an American Airlines flight from Milan. Sources said undercover cops posing as representatives from a well-heeled gallery owner lured Istavrioglou back to New York by promising him a lucrative consulting gig.
Too bad about that fake consulting gig, but it can't have been as lucrative as his hypothetical autobiography-turned-movie deal will be.