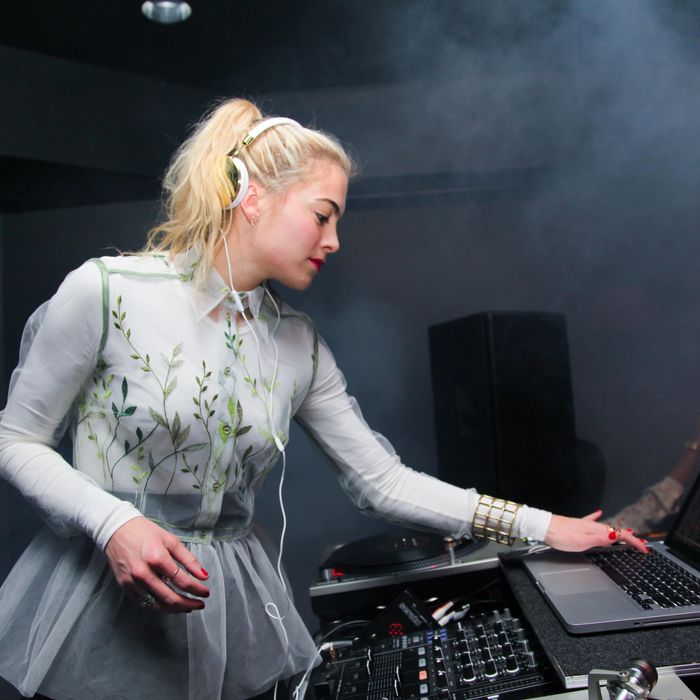 Photo: Aleks Kocev/BFAnyc.com
Fashion Week always reminds us that a great song can get to the spirit of a collection: Thom Browne unsettled us with Dvorak and Bach, Philosophy di Alberta Ferretti went with an epic Guns N' Roses guitar solo, and the spirited vocals of Willy Moon mixed with West Side Story at Michael Kors yesterday. We've kept track of all the runway tunes and created one huge Spotify playlist for all your fashion-themed dance party needs. We'll be updating the list with each show that walks, so subscribe to stay on top of the music trends. Stay tuned for Marc!
Click here to listen to our NYFW Playlist
If you don't have Spotify yet, it's free; click here to download it.
3.1 Phillip Lim
"Train Song" - Lantern
"Heartbreaker Acoustic Live" - Alice Russell
"Heartbreaker" - Alice Russell
"The Force" - Tokimonsta ft. Kool Keith
Adeam
"Drumming: Part 1" - Steve Reich
"Eclipse/Blue" - Nosaj Thing ft. Kazu Makino
"Ice Age" - How To Destroy Angels
"Too Insistent (Trentemøller Remix)" - The Do
"Crazy (Noze Remix)" - Ornette
"Shades of Marble" - Trentemøller
"Kimmi In a Rice Field (Balam Acab Remix)" - Twin Sister
"Into the Garden" - Danny Elfman
A Détacher
"Transit a Marilou" - Bruce Springsteen
"Hosianna Mantra" - Popol Vuh
"Warda's Whorehouse" - Philip Glass and Foday Musa Suso
"III" - Taj Mahal Travelers
"Caravan Petrol" - Renato Carosone
"Do It Again" - Steely Dan
Alejandro Ingelmo
"Spirals" - Synkro
"Stilhed" - Mike Sheridan
"Acceptance" - Synkro
"Revolt" - Mr. Cloudy
Alexander Wang
"Eye of the Tiger" - Survivor
"I Turn My Arm (Alixander III Remix)" - Gazelle Twin
"Real Love" - Cult Days
"Holy Water (Jesus Piece)" - The Game
alice + olivia
"Why Do You Love Me" - Garbage
"Hand In My Pocket" - Alanis Morissette
"Love Potion No. 9" - The Clovers
"Downtown" - Peaches
"Pro Nails" - Kid Sister ft. Kanye West
"Je T'Aime Moi Non Plus" - Serge Gainsbourg, Jane Birkin
"Through Being Cool" - Devo
"Cruel Intentions" - Simian Mobile Disco
Altuzarra
"Elephant Island 2" - Sleeparchive
"Time Lapse Variation" - New Tango Orquesta
"Preparation for Attack" - Zero Dark Thirty
BCBG
"Little Lights (CosMes Remix)" - Soft Rocks & CosMes
"Man O To" - Nu
Betsey Johnson
"Celebrity Skin" - Hole
"Thrift Shop" - Macklemore & Ryan Lewis ft. Wanz
"Why You Wanna" - T.I.
"The Bitch Is Back" - Elton John
Bibhu Mohapatra
"NYC:73-78" - Philip Glass & Beck
"Bells" - FaltyDL
"Angel Echoes" - Four Tet
"Up The Box" - Andy Stott
"Brothers" - Ludovico Einaudi
Billy Reid
"Sunday (Runway Edit)" - Machinery of the Night
"California" - John Mayall
"Please Forgive My Heart" - Bobby Womack
"Chinatown" - City Champs
"Get Off In It (Alt version)" - Eddie Hinton
"Interlude 1" - Alt-J
"Noah's Titanic" - Antje Duvekot
"Buttons" - The Weeks
Boast
"Peek-a-Boo" - Siouxsie And The Banshees
"Girls Talk" - Dave Edmunds
"Broken English" - Marianne Faithfull
"Look Sharp!" - Joe Jackson
"Prove My Love" - Violent Femmes
"Uh-Oh, Love Comes To Town" - Talking Heads
"Original Love" - The Feelies
Diane von Furstenberg
"Love to Love You Baby" - Donna Summer
"Inspector Norse" - Todd Terje
"More More More" - Andrea True Connection
"I'm Every Woman" - Chaka Khan
Diesel Black Gold
"Born Slippy (Nuxx)" - Underworld
"Personal Jesus (Dirty Booty Nipples Remix)" - Depeche Mode vs. Gorillas in Drag
DKNY
"Don't Play No Game That I Can't Win (Sebastian Remix)" - Beastie Boys ft. Santigold
"Rude Boy Resort" - A mash-up of Rihanna and Papa Roach
Edun
"What About Her" - Such Pretty Losers
"John I'm Only Dancing (David Bowie Cover)" - Yamantaka Sonic Titan
Giulietta
"Time of the Season" - The Zombies
"La Ritournelle" - Sebastien Tellier
"Full Moon" - The Black Ghosts

Helmut Lang
"Oh Linda" - Lee Harvey Osmond
"In The Wake" - Tristesse Contemporaine
"Husbands" - Savages
"Providence" - Foals
Herve Leger
"Success is Her Sensuality Blackest Ever Black" - Dalhous Mitchell Heisman
"Salon des Amateurs Ping (Tolouse Low Track Remix)" - Hauschka
Jason Wu
"This Ladder is Ours" - The Joy Formidable
"Milk & Black Spiders" - Foals
"Here Comes the Rain Again" - Eurythmics
"Skyfall Remix" - Adele
"A Song For You" - Amy Winehouse
Jeremy Scott
"Girls" - Beastie Boys
"Rock Lobster" - The B-52's
"The Bird Is the Word" - The Ruffled Feathers

Jill Stuart
"Cannon Ball" - Breeders
J. Mendel
"King of Leaves" - Richard Walters
"Mirror" - New Found Land

John Varvatos Launch Party
"You're the One that I Want" - Grease
"Suit & Tie" - Justin Timberlake ft. Jay Z
Kaufmanfranco
"Disintegration (Mike Luck Remix)" - Monarchy
"Brite Lites" - Lana Del Rey
"Architecture (Them Jeans Remix)" - SALM
"Basement Love (Cosmo Vitelli Remix)" - Bot'Ox
"Simply the Best" - Gudrun Gut & Thomas Fehlmann

Lela Rose
"Ash Tree Lane" - MS MR
"It's Too Late (Dave Sitek Remix)" - Wild Belle
"Ambulance" - Coco Morier
Marc Jacobs
"The Sirens" - David Bedford
Michael Kors
"I Wanna Be Your Man" - Willy Moon
"Yeah Yeah" - Willy Moon
"She Loves Me" - Willy Moon
Monique Lhuillier
"Dreem" - Sinner DC
"Radar (Michael Mayer Remix)" - Hauschka
"Call Her" - Creep ft. Tricky & Alejandra de la Deheza
"TC" - Sinner DC
"The Horizon" - Sinner DC
Narciso Rodriguez
"Jellyfish" - Bloody, Le1f
"Pulse X (Blackwax Remix)" - Youngstar
"From Here On Out / Part I)" - Nico Muhly
"Sweet Tea (Cedaa Remix)" - Bloody, Le1f
Nicole Miller
"Lies" - CHVRCHES
"Pyramidspeak" - Hood Internet (Purity Ring X Frank Ocean)
"Phone Sex" - Blood Diamonds feat Grimes
"Everything is Embarrassing (Twin Shadow Remix)" - Sky Ferreira
"Forever (The Knocks Remix)" - Haim
"Closer" - Tegan & Sara
Oscar de la Renta
"As Time Goes By" - Bryan Ferry
"I'm In The Mood For Love" - Bryan Ferry
Philosophy di Alberta Ferretti
"November Rain" - Guns N' Roses
Prabal Gurung
"Chopper" - Alexandre Desplat
"Luxury Problem" - Andy Stote
"November Morning" - Stimming
"November (Brandenburgisches Staatsorchester Version)" - Stimming
"Flight to Compound" - Alexandre Desplat
Rachel Zoe
"Shelter Song" - Temples
"Sympathy For The Devil" - The Rolling Stones
"Hurricane"- Bob Dylan
Rodarte
"Pepper" - Butthole Surfers
"Blackhole" - Beck
"Virginia Reel Around the Fountain" - The Halo Benders
"Start Choppin'" - Dinosaur Jr.
Ruffian
"Things That Dreams Are Made Of" - Human League
Suno
"Run To Your Mama" - Goat
"Burst! (Planningtorock Remix)" - Peaches
Thakoon
"Bohemian Forest" - Pantha du Prince
The Row
"Avril 14th" - Aphex Twin
Theyskens' Theory
"Soii Noir" - COH
Thom Browne
"Quartetto e Coro" - Dvorak
"Storm" - Bjork
"Pearl" - Bjork
"St. Matthew Passion" - Ernst Haefliger
"J.S. Bach: St. Matthew Passion" - Gewandhausorchester Leipzig
Tibi
"So Long My Love (Extended Mix)" - Tomorrow's World
"So Long My Love (Alternative Mix)" - Tomorrow's World
"Swim Swim" - Mensch
"Vampiros Hermanos" - Pachanga Boys
"Go! Club Mix" - Tones On Tail
Tommy Hilfiger Men's Collection
"Wonderwall" - Oasis
"The Only One I Know" - The Charlatans
"You Got Me, Really! (V Under My Skin Edit)" - Sinks
"For Your Love" - The Yardbirds
Tommy Hilfiger Women's Collection
"Only Love Can Break Your Heart" - Saint Etienne
"Under My Thumb (Todd Terje Remix)" - The Rolling Stones
"Nothing Can Stop Us Now" - Saint Etienne
"She's Not There" - The Zombies
"Under My Thumb" - The Rolling Stones
Tracy Reese
"Rock to the Beat" -  Kevin Saunderson
"Deceptacon" - Le Tigre
"Punker Plus - Le Tigre
Vera Wang
"Introductory Movement Violin" - Yann Tiersen
"Changelings" - Gazelle Twin, John Foxx and the Maths remix
Victoria Beckham
"The Truth Is" - Chrysta Bell
"Swinging Upstream (Gab Demo 4)" - DJ Shadow
"Polish Poem" - Chrysta Bell
Y-3
"I Don't Know" - Ruth Brown
Yigal Azrouel
"State Trooper (Mike Nouveau Edit)" - Bruce Springsteen