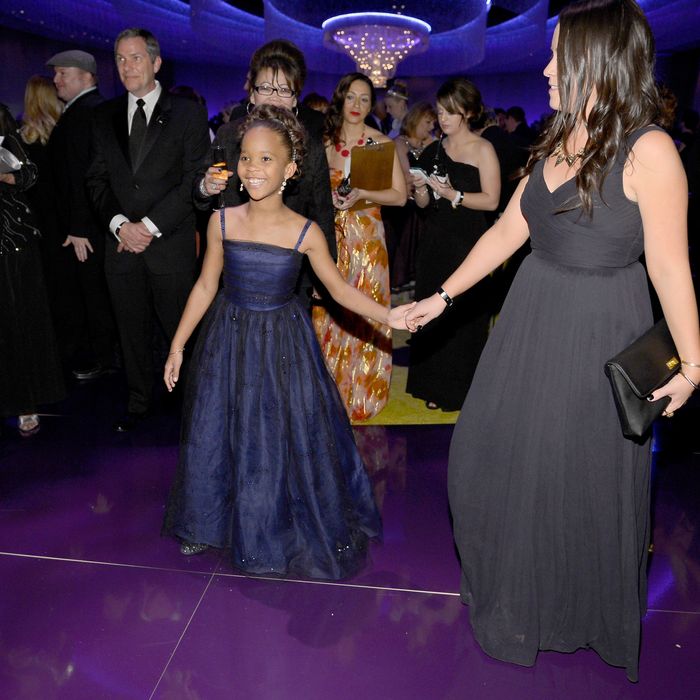 Cute!
Photo: Kevork Djansezian/Getty Images
There was much anticipation over what 9-year-old Quvenzhané Wallis, the youngest-ever Oscar nominee, would wear to last night's Academy Awards. Her decision to wear a puffy tulle gown and matching shawl by Giorgio Armani was a surprising one — many people weren't even aware that Armani made children's clothes, and a press release confirmed that his Juniors line had never been worn on a red carpet before. As always, Wallis also carried her signature dog purse, adorably decorated with a silver tutu and a sparkly tiara.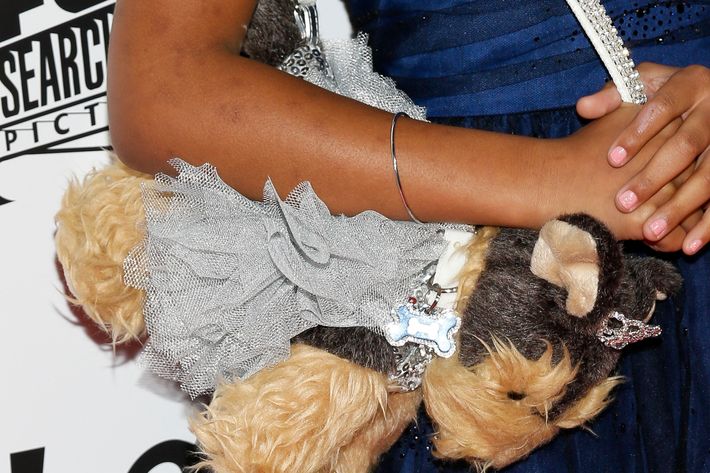 Armani, who custom-made the dress for Wallis, gave this quote in the press release:
Quvenzhané's milestone performance in 'Beasts of the Southern Wild' was so enthralling, I knew I was watching the debut of a American, cinematic original. Her innate passion and charisma, and ability to hold the camera's attention with such poise and ferocity, was indeed Oscar worthy. She is utterly infectious and rambunctious.  To me, if any child ever embodied the ideal and individualism of Armani Junior, it is Quvenzhané Wallis.
Also, apparently Armani Junior has been around since 1982 — who knew! (Certainly not Wallis, because that was over twenty years before she was born — yup, feel old!) Here's her take on the outfit:
I've never seen a prettier dress in my whole life! Thank you Mr. Armani for making me feel like a very special princess for the Oscars. Or maybe I should say 'grazie mille' instead!
If you're wondering if she really said that, watch this video for proof that this is actually how she talks. In conclusion, here's the obligatory dancing GIF of Wallis after the show last night. Happy post-Oscars Monday, everyone.