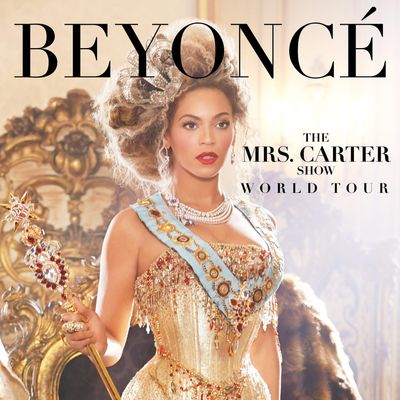 Photo: Splash News/Corbis
In the days before the Grammys, Beyoncé Knowles ended the biggest week of her professional life with a bang, ricocheting from an a cappella "take that, haters" press conference to a jaw-dropping Super Bowl halftime show that drew near-universal praise. Poised for world domination, she announced her 2013 world tour the very next day.
It's called "The Mrs. Carter Show."
It's the first time Beyoncé has publicly referred to herself in this way; her full married name is Knowles-Carter, but she doesn't use the double barrel professionally, nor does husband Jay-Z, whose legal name is Shawn Knowles-Carter. Of course, Jay and Bey are exceptional, in that they're known the world over by the one-word titles, but the thorny question of which names to use in which contexts is a problem non-famous women grapple with, too —particularly in an age when names are routinely plugged into search engines and "personal branding" is a career staple.
For the last two decades, the already small portion of American women who keep their maiden names has been shrinking. The highest that figure was was 23 percent in the nineties. By the early aughts, it had dropped to 18 percent. In 2011, TheKnot.com surveyed 19,000 newlywed women and found that only 8 percent kept their last names; 86 percent took their husbands' names, with the remaining 6 percent presumably modifying or hyphenating. Meanwhile, the median age at first marriage for American women has reached an all-time high of 26.5 years, meaning women spend longer establishing their professional identities before they walk down the aisle. They're also more likely to stay in the workforce after marriage.
Dr. Laurie Scheuble, a Penn State sociology lecturer who studies female name change, notes that the 5 to 10 percent of women who keep their names — "and that includes hyphenators" — does not account for "situational name users," those who go by different names in different circumstances. The everyday Beyoncés.
Rachel* is a 30-year-old writer who got married last year. By the time she walked down the aisle, she had a book, regular bylines, and a social-media presence under her maiden name. Though she wanted to take her husband's name, she settled for a middle ground: She plans to change her legal name to her husband's, but use her maiden name professionally. Since her Facebook friends are aware of the change in her marital status, she switched to her husband's last name there; her Twitter account, however, will keep her personal brand intact. Other areas are gray: "I changed my name on my e-mail, and it's already incredibly confusing for people. I don't get e-mailed back, and I go into spam folders, and people delete stuff, because who the hell is Rachel Anderson?"
For Melanie, a 26-year-old newlywed, the social media change was the easiest part. She had long planned to take her husband's last name and turn her maiden name into her middle name, as her mother and grandmothers had done. But the State of New Jersey doesn't recognize changing a last name to a middle name as part of the standard nuptial process. "I will have to petition the court, post various notices in the paper, and go through court hearings," Melanie says. "It may take several months and cost $400." Only after that can she begin changing all her various forms of I.D., her credit cards, and her voting registration. By comparison, the quick and easy profile update on Facebook was a welcome one-click change.
Lindsay Rogers, 26, runs a wedding planning business with her sister-in-law. Eventually she'll take her husband's name wholesale — no double barrels, no hyphens — "but I've been too busy to go down to the Social Security office, and it's not a huge priority for me." In the meantime, she changed her name on Facebook and Pinterest, "because it's exciting! And it kind of made it seem more official." Though Rogers initially worried that sharing a last name with her business partner wouldn't look as professional and serious to outsiders, she finds her clients take her more seriously when they know she's had a wedding herself. "They assume I've got a better perspective on it because I've been a bride myself."
There's always the innovative middle ground of creating an entirely new name, like the Times' Jodi Rudoren did, fusing her last name (Wilgoren) and her husband's (Ruderman) to form a new name that they both use. Or in the case of Beyoncé "Mrs. Carter" Knowles-Carter, perhaps, there's always Sasha Fierce.
* Also not her given name.