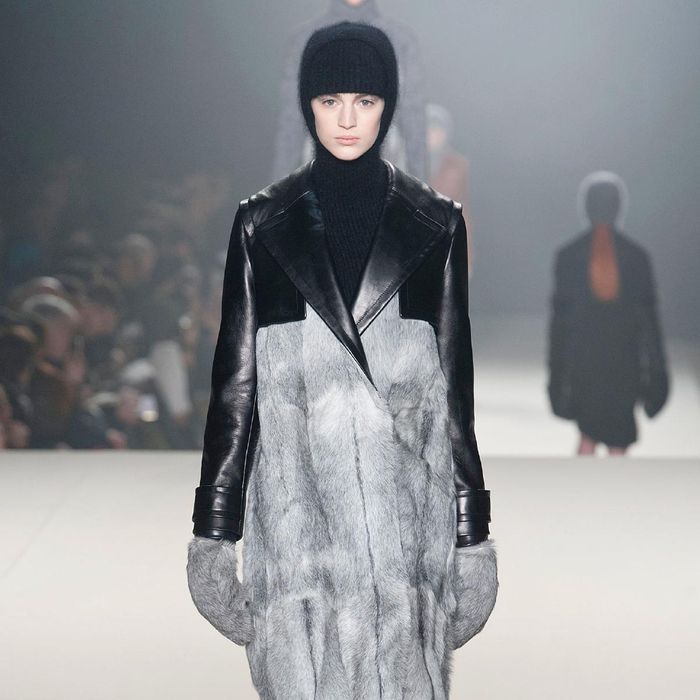 Photo: Alessandro Lucioni/Alessandro Lucioni
The moment it was announced the that young American designer would be taking over for Nicolas Ghesquière at Balenciaga, most fashion people have wondered how Alexander Wang's downtown urr-aesthetic – leather pants, loose knits, chunky shoes and studded bags, all with messy hair – would be transformed for the French brand's more apparently luxurious and architectural look. Balenciaga is a brand that's known for playing with neoprene, and creating beautiful, bonkers, labor-intensive silhouettes with narrow fits that are especially popular in Asia.
So can Alex do it? This was a huge and perhaps overly simple question leading up to Fashion Week.
Tonight he proved that he's certainly up for the challenge. Deep downtown in the financial district (as close to Brooklyn as he could possibly get), in a space with a ceiling that would make the Sistine Chapel jealous, the assemblage felt 100 percent Wang: The set was grey, the room was foggy, Zoe Kravitz sat with A$AP Rocky and Terry Richardson in the front row. Much of the clothing was black with leather panels and textures that felt cozy enough for his greatest clients' Soho Xanax-infused Sunday.
But there was – excuse the fashion speak here – a sense of elevation.  If the goal of this collection was to prove he'd excel at designing Balenciaga, he gave some clear signals. Slick leather prairie skirts, plissé silk shirts, and TONS OF FUR all indicated that he's ready to raise his prices. Near the end of the show, there was a series of looks that featured shoulder cutouts and plunging neck-lines that were chic, and great tops with volume in the back — and sequins, too — that looked like they had been cut by the most highly skilled atelier; while they weren't the silhouettes with which Balenciaga has played, they still displayed those sort of tech-meets-sewing skills the French house will need. The shoes were curvy and steep, the bags were furry; these are the kinds of accessories badass women wear to work, not to get sloppy at the Boom Boom Room. In the first few looks, especially, the Karl Templer styling featured snoods and sock-sandals and furry gorilla arms that were so advanced and layered (or overwrought, or genius, depending on whom you ask), that they'd be right at home on the more dramatic Paris runways. These were high-end outfits, not must-have single pieces. Especially the ten looks in the slideshow below, which we're deeming the most Balenciaga-ish of the runway show. Consider it your crystal ball into fashion's future.
See the full fall 2013 Alexander Wang collection here.