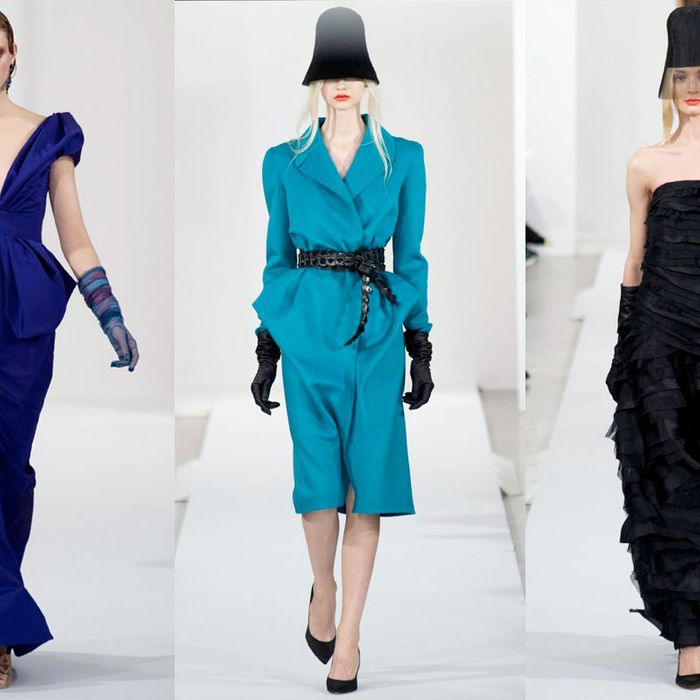 Although only Oscar de la Renta accepted the crowd's applause at his show today, one could easily imagine an elaborate, John Galliano–style bow at the finale. The former Dior designer has been working at De la Renta's studio for the past three weeks and was backstage with the models this afternoon. While Galliano's involvement with the finished product remains unclear, De la Renta recently told New York, "I like hearing what he thinks should be changed and improved about each piece we are showing in the fall collection."
It would appear that Galliano "changed and improved" quite a bit. The exaggerated cloche hats, reminiscent of those worn on Dior's fall 2008 runway, captured his love for towering headpieces. A series of sheer skirts rendered in layered chiffon, deep-V necklines, and belted waists echoed the Galliano silhouette. (The Times' Eric Wilson writes, "Mr. Galliano and his colleagues, according to those at the studio, spent hours leading a seminar in how to tie the belts properly.") Even the show's makeup artist, Gucci Westman, cited "John's" input several times when describing the beauty look — Marcel waves, smoky eyes, and wine-colored lips.
Most notable was the theatricality of it all: the color palette (puce!), hooded and billowing capes, and, of course, a veil. This was a new and different level of drama than we're accustomed to seeing from De la Renta, but one that's characterized Galliano's career. Which, it seems, is on its way to recovery.
See the complete fall 2013 Oscar de la Renta collection.