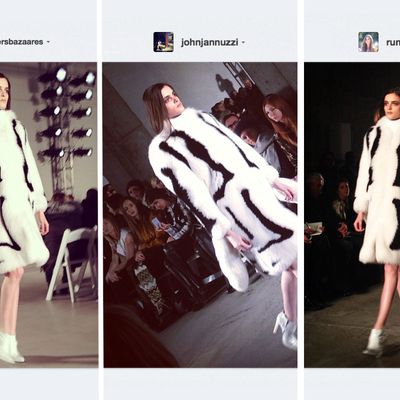 Altuzarra's coat.
Photo: harpersbazaares/Instagram; johnjanuzzi/Instagram; rumineely/Instagram
Between the front rows and the fall collections, fur has been exceedingly popular this Fashion Week. Attendees like Rumi Neeley, Bryanboy, and Anna Wintour are piling into their seats with multiple pelts draped over their bodies (there was a blizzard, after all), and runways are teeming with yeti mittens, fuzzy collars, and mink-trimmed everything. It would take a lot for one particular fur to turn heads, in other words, but at last night's Altuzarra show, an enormous black-and-white coat — think reverse skunk, complete with multiple swinging tails — got everyone riled up. Even Carine Roitfeld leaned forward and, in an unprecedented showing of tech-savviness, took a picture of it on her phone before tweeting, "@altuzarrastudio collection = my first order for Fall 2013! Love, Carine."
Meanwhile, people went nuts on Twitter and Instagram. "My favorite coat of the season so far at Altuzarra," tweeted Bryanboy; his seatmate Rumi Neeley echoed, "The relevance of this coat, today (it's high)." Other reactions:
"Cruella DeVille eat your heart out." —  Elle's Anne Slowey  
"The coat of the season." — Nina Garcia
"Epic fur at Altuzarra." — V magazine 
"Favorite look." — John Jannuzzi
"Confusing PETA and all." — Peju Famojure 
And thus, the apex of this week's furriness has been reached. Or has it? See below for a small sampling of the insta-madness.