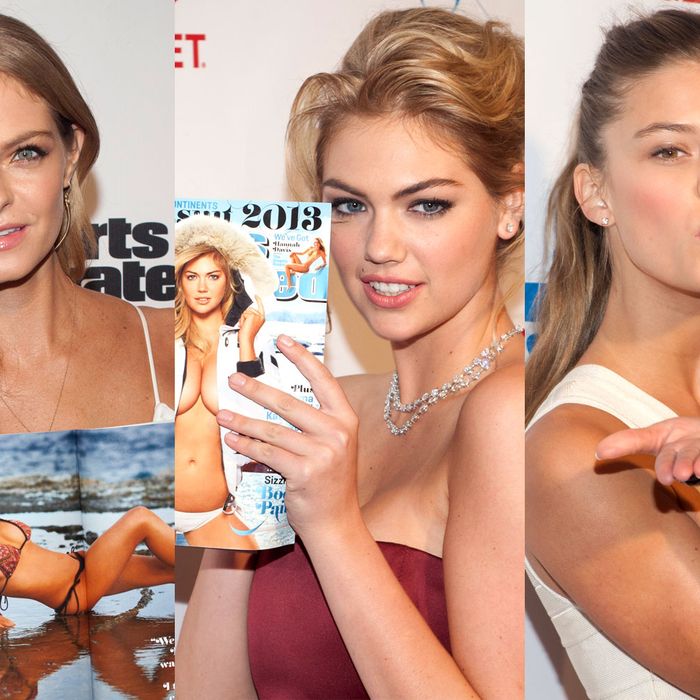 Last night at the Manhattan launch party for Sports Illustrated's Swimsuit Edition, the models seemed somewhat relieved to be escaping New York Fashion Week with a planned flight to Las Vegas right after the party.
"I've never been a runway model in my life, I'm too short!" said Nina Agdal, who is five foot nine (blowing kisses above). She explained that her genetic gifts are elsewhere. "I have my boobs. I have my butt."
"Not everyone's modeling career is the same, and you have those girls who do runway shows and high fashion, and that's not the path my career has taken," said Jessica Perez, also five foot nine (far left). "I have a sexy body. I feel like most men prefer our bodies over women's runway bodies."
The curvy, it would seem, are content to roll in the sand and pose in bikinis in Antarctica.
"Honestly, I really enjoy going to fashion shows, because I love fashion," said cover model and hypothermia survivor Kate Upton. "But it was never in my interest to be in a fashion show."
"I don't really focus on other girls," she continued, "just because I think everyone has a different body type. I think the modeling game is self-competition — you have to work on yourself. I don't go out and compete with other girls. I just try and make myself better."