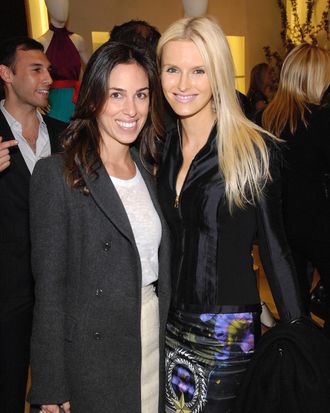 Stefania Allen and Kate Davidson Hudson.
Photo: Owen Hoffmann/PatrickMcMullan.com
When Elle's two highest-ranking accessories editors, Kate Davidson Hudson and Stefania Allen, jumped ship in November, both cited "personal reasons" for their departure. Rumors quickly circulated that they'd left to start their own project, an accessories website called Editorialist. They kept mum about their plans, but when Elle's style director, Kate Lanphear, left a few weeks later people assumed she was joining them. Instead, she wound up taking a job as style director at Deborah Needleman's revamped T magazine. Anyway, all mysteries were finally solved today when Editorialist sent out an email announcing their official launch.
The editors' letter, signed by Hudson and Allen, defines their mission:
We share our vision of a new editorial-meets-commerce concept that connects the dots between aspiration and access and offers a new construct for how we consume our fashion media.
In other words, it's an e-commerce site for high-end shoes, bags, jewelry, and other accessories, only nicely organized and made to look like a magazine. And hey, there's a jewelry story styled by Lanphear! She's not listed in their contributors section, so it's unclear to what degree she's involved. One assumes Hudson and Allen were tired of editing the Elle Accessories supplement when they could do the same thing on their own for lots more money, et voilà.