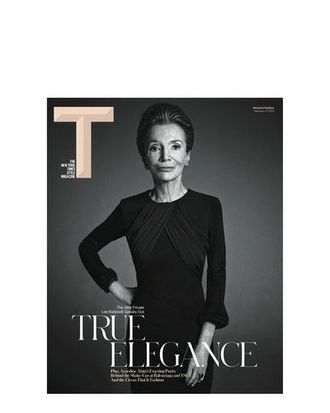 Lee Radziwill, shot by Mario Sorrenti for T magazine.
Photo: T
Deborah Needleman's first redesigned T magazine cover, featuring socialite Lee Radziwill, is out! WWD got a first look at the cover, which Needleman conceived while she was still at WSJ. A number of other magazines, including Vanity Fair and W, have been chasing Radziwill for ages, but Needleman snagged her because, unlike editors who have to worry about newsstand sales, she was able to put the 79-year-old on the cover. "I think we're sort of post-everything. We're post-race, post-feminist, but I feel like we're not quite post-age. And we should be," Needleman told the Cut last week. "Everything is so chaotic and noisy and bloggy, and she represents a kind of elegance."
Needleman believes that the late Jacqueline Kennedy Onassis's sister will appeal to Times readers of all ages, particularly as it's "a culturally sophisticated and more tolerant audience," she tells WWD. She explained to the Cut further: "It's my feeling that she's just of the moment, and 20-year-olds that have never heard of her will be as interested in her as people for whom she's been a lifelong icon. She's had this incredible life with the Kennedys, and then with Warhol and Peter Beard. She's had all these different incarnations and she's always been completely true to herself," she said. "And she's just cool! It's not like, 'Oh, this is our age issue, and she's cool for someone who's 80.' No, she's just cool. She hasn't reinvented herself a hundred times. She's gone through different stages but she's always had a real sense of herself, and that's still true now. And she's still completely beautiful, and a really compelling character."
Shot by Mario Sorrenti, the cover also reflects creative director Patrick Li's new redesign, complete with the new, three-dimensional-looking T logo that replaces the newspaper's traditional Gothic typeface. The profile will be accompanied with a video by Sofia Coppola, a friend of Radziwill's. Also of note: The cover text reads "True Elegance," inviting comparisons to Kristina O'Neill's first WSJ. issue headline, "Pure Elegance." Not that anyone's pitting them against each other, or anything.