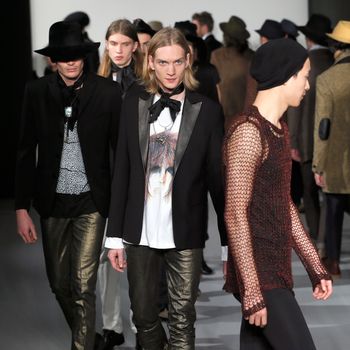 Photo: PATRICK KOVARIK/AFP/Getty Images
The CFDA has led two meetings in as many months to discuss the likelihood of adding a men's week back onto New York's fashion calendar, WWD writes. From 1995 to 2000, menswear shows were held in conjunction with 7th on Sixth (the old-school CFDA), when designers either presented coed collections at women's Fashion Week in Bryant Park or decamped to Milan and Paris. Those trying to bring back the tradition include Steven Kolb, current CEO of the Council, Tom Florio of Advanstar Fashion Group, GQ creative director Jim Moore, and PR and production agency KCD. Kolb told WWD, "It's the right people having the right conversations … We're looking at the business model, what the dates could be and whether it will attract the right numbers and level of designers and audience. There seems to be a real desire to map it out." In fact, New York men's fashion week could happen as soon as this summer or early next year.
But before you get too excited, let's hear from 2011 Kolb, in a WWD article titled "As Milestone Nears, Group Plots Growth Era":
There has also been much talk in recent seasons of adding a New York Men's Fashion Week. Kolb said that although it seems less feasible, perhaps, to start a whole men's fashion week unto itself, the CFDA continues to increase its focus on the city's men's wear industry, from alternative ways to promote men's wear designers to supporting American designers showing in Europe.
And the year before, in a story called "Only in New York: Men's Runway Shows Get Short Shrift," American designers, such as John Varvatos and Thom Browne, explained one of the key issues with sending menswear down the runway at the September and February womenswear shows: the timing. From Varvatos:
"I love showing in New York, and I showed there primarily," said Varvatos, who used to mount the city's biggest and most celebrity-attended men's show before he took to showing in Milan three seasons ago. "The reality for us is the men's market opens in Milan the week of June 20, and the New York shows aren't until September … So how do you get the best value for all that you spend on a show? It's a ton of time and money. There's very little value for showing in the States if you're an international brand. I would love to show in New York because it's uncomplicated and it's our base, but it doesn't make sense."
More importantly — how do you convince designers to give New York another chance? Look to London Collections: Men, which launched two seasons ago, and hosts Christopher Kane, Tom Ford, and Alexander McQueen. This coming from a place whose women's fashion week was fledgling a few years ago. We're confident the CFDA can set up a new base and swing the industry westward. As Michael Bastian says in today's WWD, "I think now we are getting critical mass in New York for men's wear so that we could gang together and stand for something." Imagine this, only much better dressed.