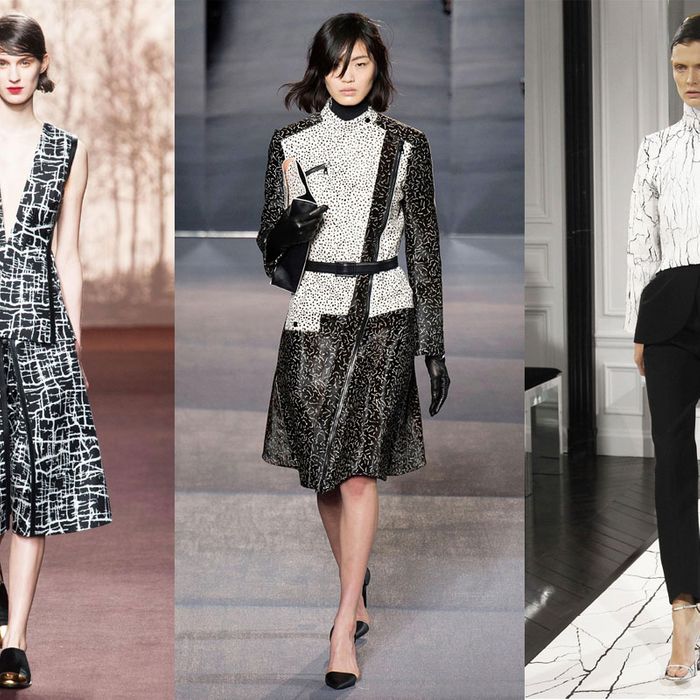 "Black and white" seems like such a staple each season, a non-trend really, as we see a version or two perpetually in almost every collection. It's strange to even really call it a trend. But on the heels of Marc Jacobs's and Alexander Wang's monochromatic spring collections, we've found that the non-trend-trend is especially prominent for fall 2013, with Altuzarra, Alexander Wang, Proenza Schouler, Mary Katrantzou, and now Balenciaga showing almost exclusively in the gradient.
At Proenza Schouler, the palette drew the eye to focus on the minute pointillistic squiggles and circles. This drew our attention especially to the amazing details, like printed pony hair and hand-pieced lace. A few days ago at Marni, a jagged black-and-white-print skirt and top caught our eye as another confirmation of this trend. And, yesterday, at Balenciaga, Alexander Wang's debut collection for the hallowed label was a measured study in Cristobal Balenciaga's shapes  in the fifties and sixties. Then there was the craquelé painted knitwear that struck our eye as the strongest takeaway (a perfect synthesis of both Balenciaga and Wang) from the collection.
Earlier today, at Roland Mouret, the last seven looks used the graphic combo to highlight unusual satin suiting details: hip-hugging tuxedo lapels, satin collars, and the asymmetric-fold draping for which the label is best known.