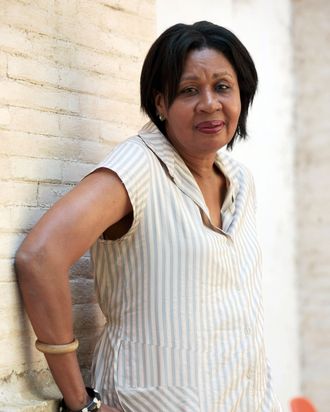 Photo: Elisabetta A. Villa/Getty Images
In New Yorker writer and novelist Jamaica Kincaid's new, loosely autobiographical novel, See Now Then, the two daughter characters are resentful of how much time their mother spends writing. So it was only natural that Mother Jones' recent interview with Kincaid about the book turned to the matter of having/not having it all.
"I was thinking that at one point the children said to me, 'You were always late picking us up at the bus.' They remember me disappearing and writing a lot. Whereas I remember it as, you know, not having enough time—the room I wrote in was off the kitchen because even though they had a nanny, I liked knowing what was going on with them and I didn't want to close myself off. I remember once reading something Nora Ephron said: that anything that's good for you is bad for your children. I never forgot that. I think my children in some ways felt that my success interfered with their complete happiness, and I think a lot of mothers feel that way. But that's just the way it is. There's nothing to say about 'having it all,' or women should have this—life is difficult."
That's not even the only topic in ladyblogging MoJo and Kincaid covered. They also talked about whether it's okay to love hip-hop even though its lyrics are often misogynist. Kincaid's ringtone is "Ni**as in Paris."
"I'm not going to defend misogyny in hip-hop. But it didn't affect me the way, say, Hustler magazine did. It's very funny, American society: White culture can do all sorts of things and get away with it, but the minute a black person does it, it's interpreted in some way."
Meanwhile, MoJo points out, Kincaid's characters are the sexually empowered feminist opposite of a Hustler pinup.
"You know how they say a man's house is his castle? I think for a woman, it's her body. I feel so strongly about a woman's right to choose. This is my Zionism. It's not a 'right' any more than it's a right to breathe, to take in oxygen. I think a woman is powerless if she cannot freely claim the right to her reproductive capacity. Society can talk about anything it likes, except a woman's reproductive existence. I think I write out of that feeling."
But the best feminist litmus test for a Kincaid novel might be how worried it made the interviewer about Kincaid's ex-husband, whom a character appears to be based upon. Her reviewers seem similarly concerned, which we're taking as a good sign. Critical hand-wringing over too-true ex-boyfriend material worked out just fine for Lena Dunham and Taylor Swift.