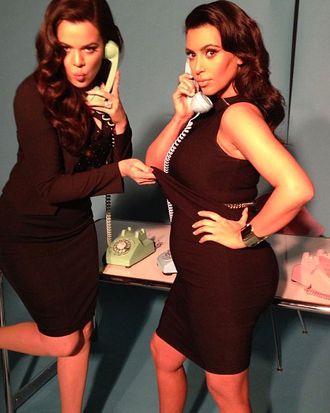 Photo: Kim Kardashian/Instagram
After spending a month in hiding beneath a series of pantsuits, empire-waist dresses, peplums, and oversize coats, KimyEmbryo made its worldwide debut on Instagram yesterday. Next to the words "Well hello there! #PoppedOuttaNowhere!!!" Kim poses at a fifties phone bank, as a less-popular Sister Kardashian lifts a piece of fabric to reveal a small protrusion. It's unclear who Kim is speaking to, since Kanye was tied up in Abu Dhabi.

In other Kim news, she sat down with WWD to promote her sixth fragrance, Pure Honey, which includes raw wild honeycomb and rose notes. A 50-ml. bottle will go for $55 and the 100-ml. for $68, and both should be in stores this September. But WWD seemed to have little interest in talking shop. Asked how she plans to keep KimyEmbryo-post-birth out of the spotlight, Kim said, "When you go places, there are paparazzi and cameras; you can only do so much to avoid it … But I can do what I can to just not have my child on TV." She went on, "I definitely do see myself branching off and maybe doing a sitcom or something other than reality," hinting that something's in the works. Can't they just add a laugh track to one of the 6,000 E! shows she already has?