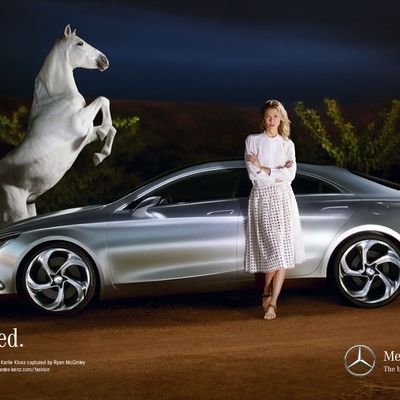 Photo: Courtesy of Mercedes-Benz
We first posted about the Karlie Kloss x Ryan McGinley x Mercedes-Benz collaboration last month when we saw a photo of Karlie Kloss alongside a majestic white horse, the model decked out in pure-white Chloé, standing with her arms casually crossed in front of the new sporty "style rebel" CLA. But the photo, called Untamed, was just the beginning; Ryan McGinley also filmed a commercial for the luxury car giant in his trademark ethereal style, featuring the cast from the photo, white horse included. This time, Karlie Kloss even runs like a graceful gazelle.
"We tried to tell a story through the commercial and my favorite part is this scene where Ryan is filming the car coming through the hills, similar to Stanley Kubrick's opening scene of The Shining," Karlie Kloss told us when we caught her on the phone yesterday. Keeping the horse in the photo and commercial was an idea that McGinley had, so he could stay true to his dreamlike aesthetic. "I've been working with animals a lot, I just had a large exhibition this summer in New York and Tokyo shooting a lot of animals, so I wanted to keep that element present in the work," McGinley explained. He also shot the video in that slice of late-afternoon called "the magic hour" to create the lighting conditions that unify his decade-long body of work.
The commercial, but of course, will run through fashion month.