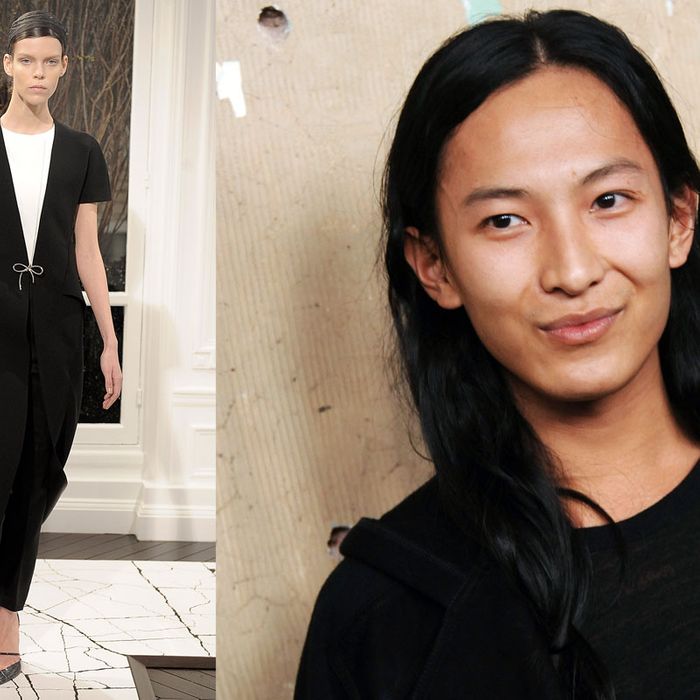 Photo: Getty Images, Corbis
This morning in Paris, when Alexander Wang presented his first collection for Balenciaga, the audience was tiny, the floor was crackled marble, and the clothes were a procession of mostly black-and-white items that the coolest nuns at the monastery might wear. (Obviously, by virtue of this being Wang, hip girls and all their favorite Twitter followers will also be clamoring for these clothes.) It was a Tom Ford–ian way of going about things — intimate, focused, yet flourished — which also means there's not much comparison to be made to Nicolas Ghesquière, the blockbuster designer who left the French house last fall, the man who had defined Balenciaga as a place for fabric play, technical advancement, skinny silhouettes, bold colors and textiles (at times), and futurism.
Instead, Wang planted his flag at Balenciaga by looking not to the early aughts but to the fifties and sixties, when Cristobal was still defining the brand with couture shapes, rounded hems, cocoon coats, and a flash of modernism with eveningwear. It was these codes — old Balenciaga, not its recent vanguard in fashion history — that Wang seemed laser-focused on. Just as with his most recent show in New York (which also seemed to reference mid-century French chictopia) there were sleeves that drew the attention to the shoulders (these ones were capped, his other ones were cut-out); there were loose-back tops; there were uses of fur that looked throwback and not really trendy, with silhouette updates that almost made them seem like varsity jackets for the coolest cheerleaders in Europe, as if French people would deign to bother cheering along. The monochrome palette was one that Ghesquière had turned to often when he wanted to reference old, sometimes monastic-looking Balanciaga. White pique shirts and cigarette trousers and cloaks hammered home that idea for Wang.
Even if you were color-blind or looking solely at shapes, the rounded hems and floor-grazing chrysalis coats and pleated trousers and sort-of-peplum dresses (with Wang's nearly trademark banded back exposures) all built upon the architectural idea that we've all assigned to Balenciaga, the brand, even if not to the clothes on the racks. If you were a fashion follower and drew your own fictional Balenciaga collection, it might look something like this.
All of it was safe. Yet it also featured the crazy techniques that have led die-hards to refer to last decade's Balenciaga as art. Cathy Horyn wrote of this surprise twist in particular, noting that crackled leather pieces were actually "painted knits." And "plastic looking pieces that looked injection-molded then rolled in sprinkles?" Embroidered. They say the devil's in the details, but in this case, he's actually backstage — proving that the smartest way to be subversive, especially when all eyes are on you, is to give people exactly what they imagine. Just not too much of it.