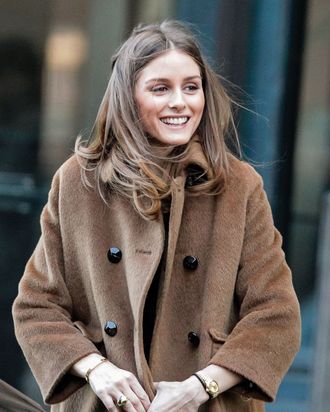 Photo: Allan Bregg/Corbis
Oscar de la Renta and the Outnet (Net-a-Porter's less-expensive sister site) partnered on a 24-piece collection, priced from $325 to $1,295, to launch February 26, WWD writes. The shift dresses, full skirts, tie-neck blouses, shorts, high-waisted pants, and "a silk faille bohemian trapeze gown in vibrant coral" were made from old fabrics and patterns used by the brand's outlet store at Woodbury Common in New York. De la Renta CEO Alex Bolen said: "We thought, perhaps we can put something together in a way that is new, that doesn't require as much development time and in an exclusive way. [But] the thing we have to be careful about is that we don't want to dumb down our product or offer the same thing at two different prices."
And Olivia Palermo, socialite and former star of MTV's The City, will be the face of a forthcoming online campaign — "It's all about reinterpreting classic styles, so we wanted someone polished who represented the Oscar brand but that also was someone that Oscar doesn't typically use," explained Stephanie Phair, the Outnet's managing director.
This isn't ODLR's first diffusionlike project. In 2004, he followed Isaac Mizrahi to the land of low prices, introducing O Oscar, which retailed for under $100 at Macy's West, Belk's, and Dillard's. From an eight-year-old article in the Times:
Is this about money, Mr. de la Renta was asked? "It's always about money," he replied, with a broad grin.

"I wanted to reach a consumer I've never been able to reach before," he said. In the past, the only item some lower-income shoppers might be able to buy was Oscar de la Renta perfume — a licensed product that a company executive said sold almost $200 million worth at retail. Now, Mr. de la Renta said, the young or less affluent consumer can buy into the new O Oscar line, which combines his characteristic silk-and-ruffles style with, not surprisingly, cheaper materials and detailing.
For that campaign, by the way, he enlisted model Linda Evangelista.