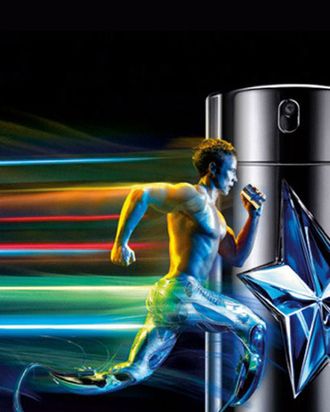 Won't be seeing this anymore.
Photo: Thierry Mugler
Yesterday, fashion house Thierry Mugler announced that they're severing ties with Olympic runner Oscar Pistorius, who became the face of their men's scent A*Men in 2011 and was charged last week with the murder of his girlfriend, Reeva Steenkamp. Mugler, which is owned by Clarins, told WWD:
Out of respect and compassion for the families implicated in this tragedy, Thierry Mugler Perfumes has taken the decision to withdraw all its campaigns with Oscar Pistorius.
Mugler is the third brand to distance itself from Pistorius since he was charged with the shooting death of Steenkamp last Thursday. On Monday, Nike suspended their contract with the runner (their ads were particularly awkward, as they referred to him as "the bullet in a chamber") and Oakley announced that they had no plans to work with him again the future. His endorsement deals were reportedly worth about $2 million.