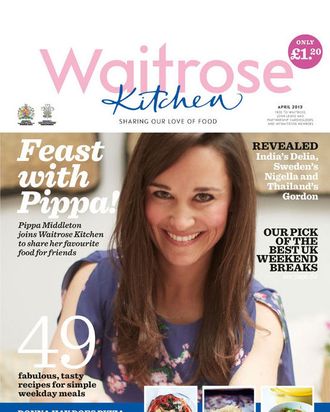 The girlfriend of 35-year-old "man who does not own a grand country estate or have an impeccable pedigree," Nico Jackson, has finally found herself a job! According to a press release, Pippa Middleton signed on as a columnist for the monthly magazine of Waitrose, a slightly upscale U.K. supermarket. P-Mid said:
I'm delighted to be writing for Waitrose Kitchen, a magazine that's always been a source of inspiration to me, for its extensive spectrum of food and beautiful style. My column, 'Pippa's Friday Night Feasts' will be an exciting opportunity to share my own passion and enthusiasm for food and entertaining and I can't wait to get started.
Her official start is with the April edition, which goes on sale March 28 — and we already wonder what a Friday Night Feast, Pippa-style, entails. Editor William Sitwell said she'd be providing "relaxed and easy entertaining ideas which will help with the preparation for all sorts of occasions." We're betting on loads of comfort food, because her sister, the duchess of Cambridge, is five months pregnant and looks like this.
As the Evening Standard points out, the Waitrose Kitchen column marks Pippa's third time writing for the masses — following the release of her party-planning book Celebrate last October and her guest diary in The Spectator around Christmas.