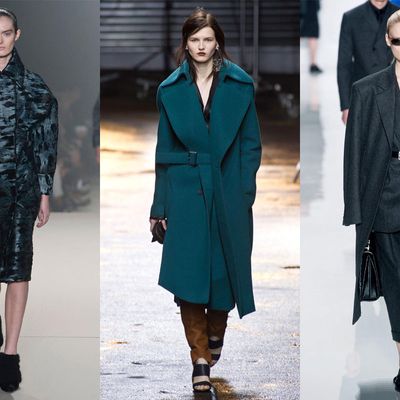 Shoulders are quickly proving themselves the it body part of fall 2013. Some designers left them bare, but in contrast we're getting a Men's Warehouse vibe from all the wide-shouldered coats coming down the runway this week. At Alexander Wang, a turquoise jacquard coat with dolman sleeves looked like a huge walking origami man (in a good way!); 3.1 Phillip Lim showed a bulky felted wool overcoat that we'd love to wrap up in this week; and at Michael Kors, Hanne Gaby Odiele walked in a coat with shoulders so big it looked like a gift from a Wall Street boyfriend. Pick one of these up come fall and you'll like the way you look, we guarantee it.
See the complete Alexander Wang fall 2013 collection here.
See the complete 3.1 Philip Lim fall 2013 collection here.
See the complete Michael Kors fall 2013 collection here.