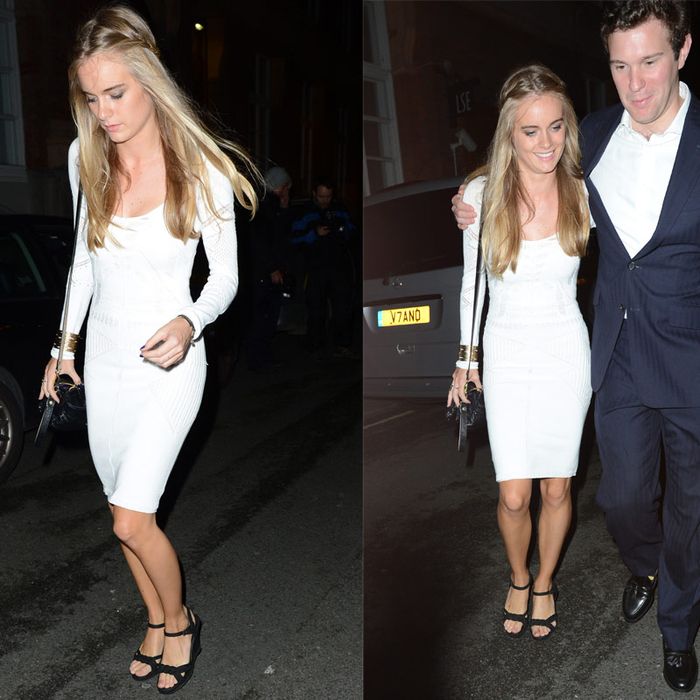 Cressida Bonas, with another bloke last year.
Photo: Splash News/Corbis
In the midst of all this post-Oscars fuss, let's not overlook Harry's alleged new lady-\friend, Cressida Bonas, whom he recently bestowed with chaste snowsuit hugs. They've been photographed together since July, when he brought her to the London premiere of The Dark Knight Rises, and now things are supposedly getting serious, with reports that he's accompanying her to a family wedding in South Africa. Of course, Bonas's vague resemblance to Cara Delevingne makes the purported relationship that much more exciting. (Note: The photo above was taken last year, so don't fret about that other guy in it.)
Anyway, we got some more concrete (actually, flimsy at best) "proof" of Harry's affections: The Daily Beast reports that Harry bought a pair of ladies' Manitoba Mukluk boots recently, which he's obviously giving to Bonas, which obviously means he loves her and another royal wedding must be right around the corner ahhh!!! Fingers crossed his future Vegas bachelor party is awesome. Also, this story gave us an excuse to say "mukluks" out loud, and for that we are grateful.