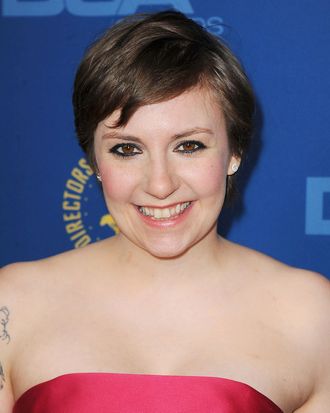 Photo: All Access Photo/Corbis
Conservatives, gotcha-bloggers, and Girls haters nearly had a field day when it seemed like Lena Dunham — the controversially normal-looking star of Obama's cheekiest get-out-the-vote ad — had not herself voted. The story originated in a semi-coherent post on New York politics blog Room 8 that "exclusively" revealed Dunham had registered to vote in Brooklyn but did not vote in the 2012 general election. The report was creepily preoccupied with the double entendre of Dunham's ad, which compared voting for the first time to losing your virginity, and that Dunham has written about losing her real virginity in general. Dunham tweeted the following explanation:
Hey kids, some people on the internet are saying I didn't vote. Some of them are still mad I used a sexy metaphor re: voting. Read on: I did vote. I tried to get an absentee ballot but, because our nation's voting system is a steampunk cornmaze, it didn't arrive. So not to be a martyr about it but I flew to New York to vote. I wasn't sure if my change of address had officially been registered so … I went to my old polling place with my dad, where they let me vote by affidavit (what was totally allowed.) Obviously I voted for Romney. I hope everyone has a nice day.
The silliness of this non-news story aside, Dunham has a point. Voting in America is needlessly complex, but not in a self-consciously antiquated way. The more than a dozen voter suppression laws put on the books in 2011 make it more like a sadist Rube Goldberg machine, and they disproportionately affect those who can't afford to spend days getting the new form of ID required to vote, let alone fly home to make up for a slow absentee ballot. As usual, Dunham's personal experience with voting serves as a charming allegory about the situation in America right now, albeit through the lens of almost unimaginable privilege. Carry on.