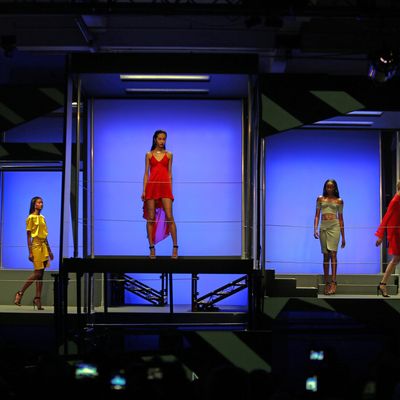 Rihanna's River Island collection.
Photo: Dave M. Benett/Getty Images
Rihanna's latest fashion project, a spring/summer collection with British high street chain River Island, walked last night in London. While it didn't disappoint, it also didn't prove quite as exciting as it could have been. Scheduled for 9 p.m., the spectacle clashed with rising young designer Thomas Tait's time slot and, in true diva style, started an hour late. Underdressed fashion folks in line outside shivered and whimpered about the delay: Run-throughs taking too long? Over-crowding? Rihanna's nap-time? All plausible.
Once past the velvet ropes, the venue — a cavernous old post office — was very dark and smelled like a malfunctioning smoke machine. Buff waiters proffered more drinks than should be allowed considering the three more days of London Fashion Week ahead, while gift bags included popcorn salty enough to induce refills. You see where this is going: an after-party full of drunken bloggers flailing on a makeshift dance floor. 
While everyone waited for the show to start, audience-member Cara Delevingne — wearing a batwing-sleeved Adidas hoodie, denim hot pants, and thigh-high leather boots — took the thumping music as an opportunity to grind up on any/all other British celebs in attendance. Nearby, Jourdan Dunn stood watching like a slightly embarrassed older sibling. Suzy Menkes took photos. Cara didn't, however, grind on Tyson Beckford, standing nearby in a very dapper pinstripe blazer, which seems like a real missed opportunity. At one point a mouse was spotted, but squeals were drowned out by loud Rihanna songs.
The clothes finally came out, and suffice it to say the designs will sell like high street hot cakes — she's Rihanna, after all. In neons, florals, and washed-out tie dye prints, the skimpy separates were a little more tropical than the average British summertime, but hey, we'll take any sunshine we can get. Jumpsuits, swimsuits, bandeau tops and asymmetric maxi dresses are in, says Rihanna, as are midriffs. Also recurring: leather baseball jackets, thigh-high skirt slits, hoop earrings, and hair bows.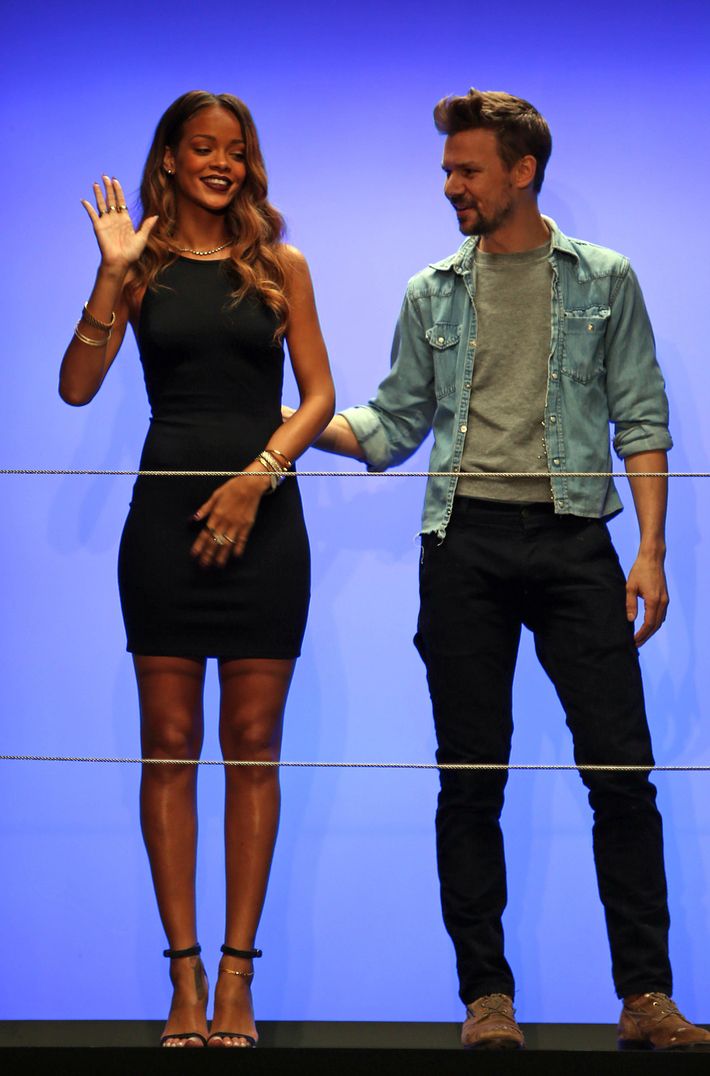 Come show's end, Rihanna took her bow ("ow-ooow") with Adam Selman, her River Island co-designer, waving coyly and looking stunning, if a little overwhelmed. No song and dance needed (though it's fair to say everybody wanted a "We Found Love" sing-a-long); the clothes had done that for her.