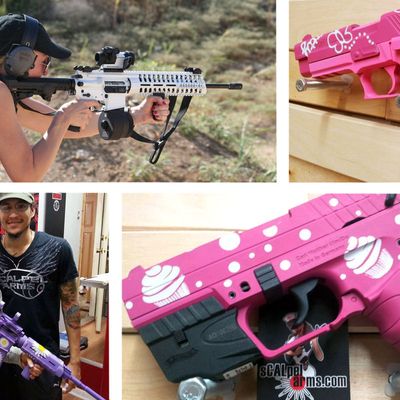 When Niki Jones, a longtime New Yorker relocated to Austin, Texas, needed a group to practice using her new concealed-carry weapon with, she was shocked that she couldn't find a woman-friendly league. So in July 2010 she founded Austin Sure Shots, a free, women-only gun club focused on target shooting. Soon their ranks swelled to almost 300; a local firm of current and former military and police firearms instructors took the women under their tutelage, teaching them defensive shooting. After learning to shoot semi-automatic AR-15 style rifles, a dozen of the women decided to make custom versions of the gun. Niki had her AR-15 railed handguard coated white and named the gun "Snow Queen." Another Sure Shot, Mandy, had hers painted periwinkle and decked out in daisies. Other women had their handguns custom-coated pink and decorated with cupcakes and Hello Kitty.
Spend a few minutes scrolling through the websites of gun dealers and you might be forgiven for thinking America is a nation of Gayle Trotters: women using the language of feminism to demand the "right to choose to defend ourselves," as the gun-rights activist put it in her Senate testimony last week. Three of the top six U.S. gun-makers — Smith & Wesson, Remington, and Sig Sauer — have pages or products dedicated to the prospective female gun owner, offering smaller lightweight models, shorter trigger pulls, and grips designed for smaller hands. There are rifle cartridges designed to reduce recoil, holsters designed to fit between a woman's décolletage, and high-end concealed-carry purses. There's a lot of pink: pink camouflage gun cases and pink Pumpmaster Air Rifles and pink tipped bullets and pink assault rifles.
Trying to determine the exact number of women who own guns in America is, like every other aspect of the gun control debate, controversial. "We don't have fresh data. We don't have anything new — that's a huge problem," notes journalist Caitlin Kelly, who struggled to find solid, impartial data while researching her book Blown Away: American Women and Guns. Wayne LaPierre of the National Rifle Association would have you believe the number is 30 million; more conservative estimates put the number at 15 million. A 2011 Gallup survey put the number of women who reported personally owning a gun at 23 percent, as opposed to 46 percent of adult men — 10 percent more than they measured two years prior. Nevertheless, according to an aggregate five-year study from Gallup, men are three times more likely than women to own a gun. A recent General Social Survey put the number of women gun owners closer to one in ten.
It's not an accident that women have become more visible as gun consumers. In the late eighties, after a slump in sales, gun-makers turned their attention to women customers, both to respond to the female gun enthusiasts already among them and to spread into a new market of women who were gun curious. In 1989, Smith & Wesson released a line of LadySmith handguns. The same year, a gun enthusiast named Sonny Jones launched Women and Guns magazine, a journal that reviews gun accessories and celebrates female firearm owners. Pro-gun group Second Amendment Foundation acquired the magazine a few years later; Jones went on to run an NRA program for women's self-defense called "Refuse to Be a Victim." Over the years, the NRA has expanded female outreach efforts to include shooting clinics, hunting groups, and wilderness escapes.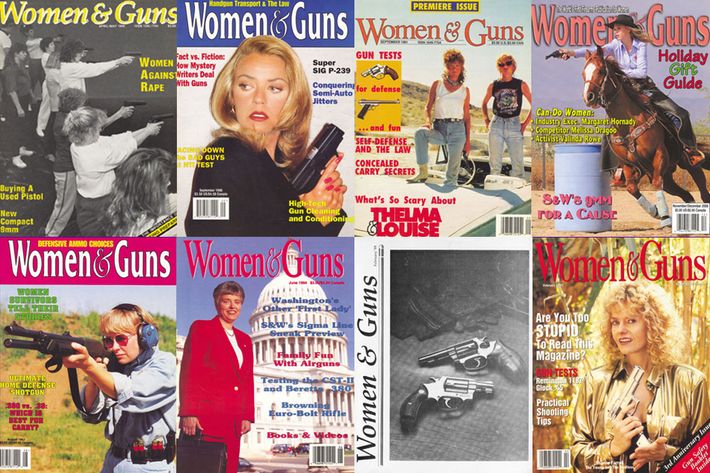 "As far as gun manufacturers, I think they are finally beginning to take notice of the sheer number of women shooters that are out there," Niki Jones, the Sure Shots founder, said in an interview. "Some seem to still be a bit tentative and consider including pink accessories in their product line as 'catering to women,' but most are actually really starting to get it." Several manufacturers, she notes, have supported her league, sending new products for them to test and evaluate, the same way cosmetics manufacturers send product samples to women's magazines.
Much as feminist writers criticized Trotter last week for insisting that guns were a "great equalizer" making women safer from violent crime, women's groups and feminists have long been critical of gun culture. In 1992, following public outcry, the editors of Ladies' Home Journal apologized for running a full page Colt ad depicting a mother tucking her child into bed above two semiautomatic weapons. "Self-protection is more than your right … it's your responsibility," the ad read. In the ensuing controversy, a Smith & Wesson official pitched the new efforts as a sign of feminist progress: "Firearms are one of the last bastions of male dominance," he said. "Today, in 1992, it's OK for women to be CEOs of companies and go into space as astronauts, so why shouldn't they own guns?"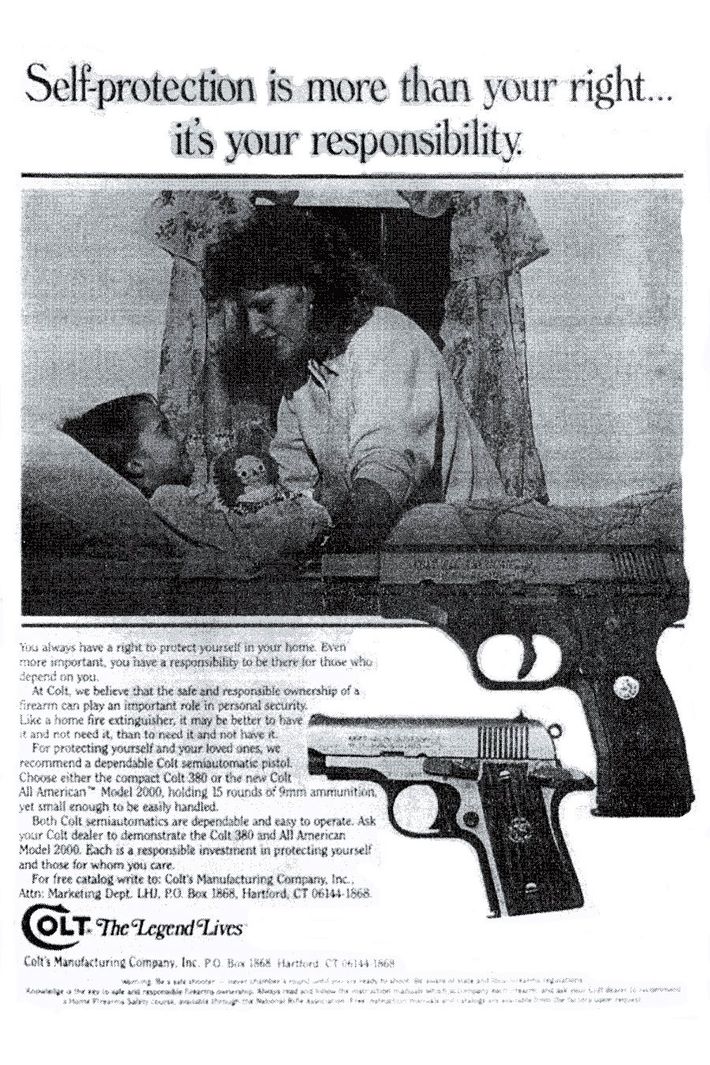 The efforts to convince more women to buy guns appalled many in the feminist movement, including Betty Friedan, who called the effort to cast gun ownership as feminist a "horrifying, obscene perversion of feminism" and helped create Women Against Gun Violence, in part to organize women, a majority of whom favor gun control, and to raise awareness about the increased risk of death for women who live in homes with guns, especially the victims of domestic violence.
Nevertheless, the role guns play in male-on-female violence came up last week in Gayle Trotter's testimony, too. When Senator Sheldon Whitehouse questioned Trotter's opposition to banning assault rifles, she retorted, "You are a large man, tall man, a tall man … You cannot understand. You are not a woman stuck in her house, not able to defend her children." A similar debate happened in 1990, when Paxton Quigley, a pro-choice Democrat, emerged on the scene. Quigley said she was against guns until one of her closest friends was raped by a home invader. "I said, this is never going to happen to me. I'm going to learn how to shoot," she remembers. At the time, none of her friends knew how to use a gun, and all of them discouraged her from learning. "I started doing research and there was a Gallup poll done at the time that said 12 million American women own guns for self-defense and there were no books written on the subject. I said, I'm going to write a book on it." Accordingly, Quigley published Armed and Female: Twelve Million American Women Own Guns, Should You?, making her the self-appointed poster girl for the empowered lady gun owner. Smith & Wesson took her on as a spokesperson and sent her to tour the country, giving gun-shop talks on self-defense, autograph-signing, and shopping advice for women who wanted to know which gun might work best for them. "I always felt that by learning how to shoot a gun it does give a woman more of a feeling of empowerment," Quigley told me. She is quick to note, however, that she supports stricter gun control measures.
Today there's a new wave of Paxton Quigleys connecting and finding audiences online, including forums like the Girl's Guide to Guns, a publication from L.A.-based gun enthusiast Natalie Foster that features advice on purchasing handguns, a reaction to this summer's Aurora shooting, and instructions for DIY shotgun shell ornaments; and Packing Pretty, a blog from 25-year-old Gracie McKee, an NRA instructor who wears pink polo shirts and once posted a video demonstrating how to carry a concealed weapon under a little black dress. There are concealed-carry fashion shows and meet-ups like at the first annual A Girl and a Gun National Conference, to be held next month in Waco, Texas, and with sponsorship from Smith & Wesson. No word yet on whether man cards will be passed out or revoked.