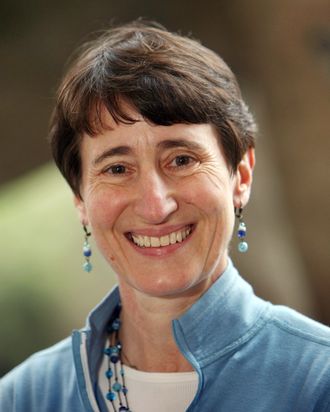 Photo: SCOTT COHEN/AP/Corbis
If confirmed, President Obama's nominee for secretary of the Interior, Sally Jewell, wouldn't be the first woman to hold the position, but she would break the mold in plenty of other ways. Like, she must be the first cabinet member to have climbed the highest mountain in Antarctica, living in a tent for 29 days in January on what she told the Indianapolis Star was "a little sabbatical," right? A mother of two and consummate outdoorswoman, Jewell is vice chairman of the National Parks Conservation Association, but otherwise has no political experience. However, with a long career that spans the masculine realms of oil, banking, and corporate boardrooms, it's hard to imagine she would feel out of place in Obama's cabinet, no matter how many white dudes he appoints.
She headed one of the most environmentally conscious businesses in the country. In addition to using energy efficient building materials and buying renewable energy, REI offset the carbon emissions from store-sponsored travel-adventure packages by buying "green tags" — subsidizing alternative energy in developing countries.
She worked for Big Oil and doesn't feel bad about it. After college, she started out as an engineer for Mobil Oil, occasionally as a foreman for all-male drilling crews. "I remember thinking how ironic it was when Greenpeace started using gasoline-powered boats to block oil tankers, or when people drove to protests against oil drilling, or when people who built wood houses and read books said no one should ever cut down trees." That said, she told Forbes the experience taught her to "recognize that there is a cost to consumption."
Oh, and also, she's a banking savant. Jewell made a name for herself in banking by using her engineering expertise to dodge the risky loans to energy companies that sunk many rival banks during the seventies. While she was the president of Washington Mutual's commercial lending group, the bank's commercial loan portfolio grew from $1 billion to $20 billion, according to a Forbes profile. "I turned down $350 million in loans in my first year because I didn't feel the collateral was sufficient," she told the New York Times. "That impressed the chief credit officer, and in 1985, when I was just 29, he made me his deputy."
She pursued her career at the expense of her husband's. "I couldn't do any of this if it weren't for my husband, Warren. He has sacrificed much in his career for mine," she told the Seattle Times in 2003. As a student at University of Washington, she originally planned on being a dentist, but she switched directions when she met Warren because his major — mechanical engineering — looked more fun.
She biked to work before it was cool. And before she worked at REI. When she was a banker, she told the New York Times, she parked her bike in her executive bathroom.
She hasn't entirely assimilated to the boys' club. While her bank colleagues took clients out golfing, she took them skiing. She recently organized a Mount Rainier climb for a group of high-powered women, including, the Olympian reported, "a retired astronaut, two doctors, a scientist, a nature writer, and the leader of a health care foundation twice named on Forbes' 100 most powerful women list."
She endorsed same-sex marriage in Washington state. "REI is taking a position in support of marriage equality, an issue that is important to the co-op as an inclusive organization and a welcoming place to work and do business," she wrote on an internal company blog obtained by the Seattle Times.
She's not joking around about the outdoors stuff. Her son takes her mountain climbing for Mother's Day each year and she survived a deadly blizzard on Mount Rainier in 2005. She also sails. Like Obama, however, no hunting. Nothing against hunting, though. Jewell told the Indianapolis Star that REI didn't carry hunting equipment — i.e., guns — simply because they didn't know that much about it and they like to be experts in everything they sell.
She's a model boss. President Obama invited her to the White House in 2009 to discuss health-care policy; he commended REI for giving health insurance to part-time employees.
She can't be president. Before you get that 2016 glint in your eye, a bit of bad news: Jewell was born in England and moved to Seattle as a young child.