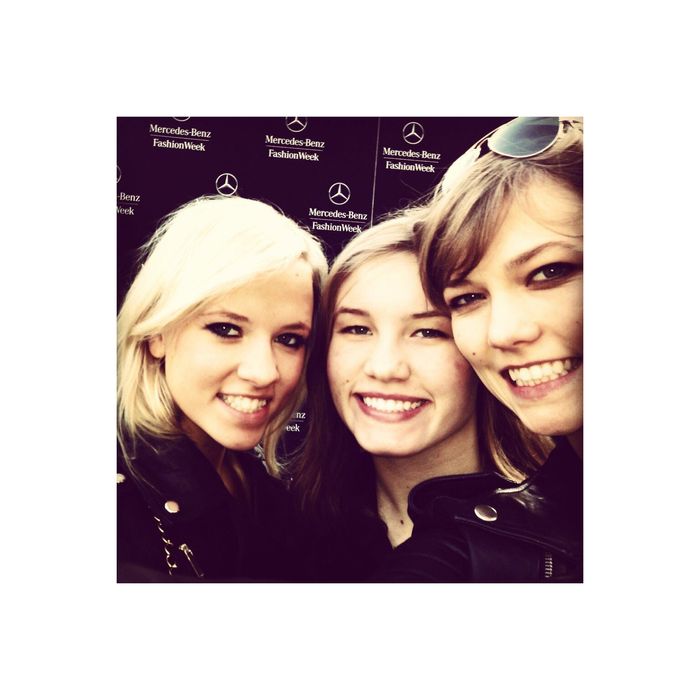 Photo: karliekloss/Twitter.com
Yesterday, Kookie-maker Karlie Kloss brought her younger twin sisters, Kimberly and Kariann, to a side job she booked — modeling in Michael Kors's show. She tweeted a family selfie, and deee-amn, Kariann looks a lot like Karlie. But it doesn't seem as though either of the high-school seniors is itching to break into the industry. From last year's Teen Vogue article on Karlie at home:
Kariann is a horseback rider and lacrosse player ("She's the star goalie," says proud sis Karlie. "She's in the newspaper all the time!"); Kimby plays softball and has a thing for leopard-print anything. They are currently planning college visits and, like most seventeen-year-olds, still figuring out what they want to do with the rest of their lives. Kariann may want to be a vet (she has plenty of animals to practice on!). Kimby isn't sure yet.
Karlie, Kimberly, and Kariann also have an older sibling, Kristine, who helps "her supermodel sister with brand extension projects." This has all the trappings of a perfect reality TV series. We'd call it Keeping Up With the Klosses. Is that taken?