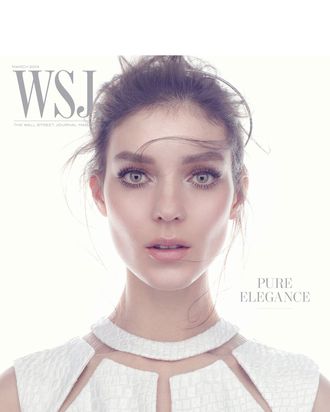 After last fall's editor shuffle, the first edition of WSJ. during Kristina O'Neill's tenure is ready to be delivered February 16. The cover features model Kati Nescher — Wall Street Journal readers, say "hi" to Kati — in spring 2013 Alexander Wang, setting up the issue's theme: white. O'Neill told WWD the typical Journal browser doesn't need "a lot of mixed messages. She wants a takeaway, which is what everyone wants when they open a fashion magazine." Inside, the editor added a front-of-book "news digest" and a selection of columnists (including Karl Lagerfeld) to discuss a single topic.
Interestingly, the issue was put together without a fashion director. About a month after O'Neill was hired, she brought on Magnus Berger, of The Last Magazine and the ad agency Berger & Wild, as creative director, and recruited Allure's David Thielebeule for market, but never filled the fashion slot.
"It'll give us flexibility to work under a freelance infrastructure," she said. The first issue counts as contributors Mikael Jansson, lensman for Salvatore Ferragamo and Gant; Patrick Demarchelier, who shot Delphine Arnault, and Vanity Fair's man for interiors, photographer Todd Eberle, who, in a coup, got an inside look at Domenico De Sole's South Carolina estate.
It's a gutsy move for O'Neill, but if her debut cover is any indication of things to come, she'll be fine.