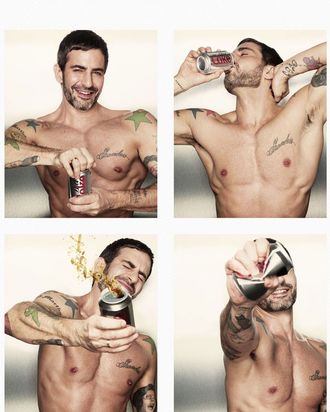 Photo: St?phane Sednaoui for Diet Coke
Marc Jacobs has been named Diet Coke's 2013 creative director, which means he collaborated on a series of advertisements and "whimsical, feminine" limited-edition packaging redesigns, Women's Wear Daily reports. (Previous Diet Coke creative directors include Karl Lagerfeld and Gaultier.) In the first ad campaign, unveiled today, Jacobs joins Diet Coke's proud tradition of shirtless male spokesmodels cavorting in the vicinity of exploding beverages.
Here's the original "Diet Coke hunk" ad from the nineties: 
And the latest one before the Jacobs announcement, which debuted last week and stars male model Andrew Cooper:
Shot by Stéphane Sednaoui, Marc Jacobs's campaign is "destined for print, outdoor, and digital" outlets. The series depicts Jacobs alone in a photo booth, getting sexy with a can of Diet Coke — which, as I understand it, is just a regular Tuesday night at Marc Jacobs's house, taking selfies and chugging zero-calorie beverages, while grinning.