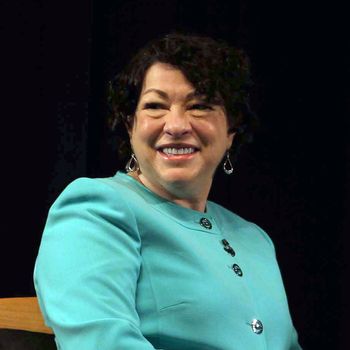 Photo: Kevan Brooks/AdMedia/Corbis
Ruth Ginsburg is the tough one, Clarence Thomas is the quiet one, Antonin Scalia is the relatively funny one, and now, for the first time in recent memory, the Supreme Court appears to have a warm and motherly Oprah type. According to the New York Times, Justice Sonia Sotomayor's recently published memoir has set a new standard for how much of a real person Supreme Court justices are allowed to be.
University of Chicago law professor Geoffrey Stone told the Times that Sotomayor's frankness makes it harder for the justices to keep up the "fiction" that they are all "neutral and detached." In her book, My Beloved World, Sotomayor is much more confessional than your average government official-memoirist. "I disclose every fear I've ever had in this book," she said. To that end, it probably helped that the lifetime appointee doesn't have to fear not getting reelected. (By contrast, we're not holding our breath for yarns like the Night of the Quaaludes in Hillary Clinton's forthcoming memoir.)
Like Oprah, Sotomayor is connecting to audiences on her book tour with off-the-charts emotional intelligence, something she attributes to growing up the child of an alcoholic. Behold, a heavily documented embrace cribbed directly from Winfrey's playbook:
When the moderator read a question from Tabbie Major, age 7, about which books Justice Sotomayor loved as a child, she found the girl, locked her in an embrace, held on while reminiscing about Nancy Drew mysteries and then called out for a photographer to capture the moment. No need: a good portion of the crowd was already snapping pictures.
She also shares a bit of Oprah's populism. To promote her memoir, Sotomayor salsa-danced with a Univision anchor in her chambers and published excerpts in People and People en Español. She told the Times' Jodi Kantor that she hopes the burgeoning personality cult will educate more young people about the Supreme Court. And while Clarence Thomas likes to shore up his anti-elitist reputation with jokes about the Ivy League, Sotomayor cares so much about the people that she made the vice-president reschedule his inauguration so she could hang out with them. "On Jan. 20, she administered the oath of office to Vice President Joseph R. Biden Jr. at the early hour of 8:15 a.m., rather than just before noon as guided by the Constitution, because Justice Sotomayor had to appear that afternoon at a Barnes & Noble in Manhattan," Kantor wrote.
Sotomayor reminded her that checking the power of the United States Congress isn't everything, you know? "It is my great hope that I'll be a great justice, and that I'll write opinions that will last the ages … But that doesn't always happen. More importantly, it's only one measure of meaning in life. To me, the more important one is my values and my impact on people who feel inspired in any way by me."