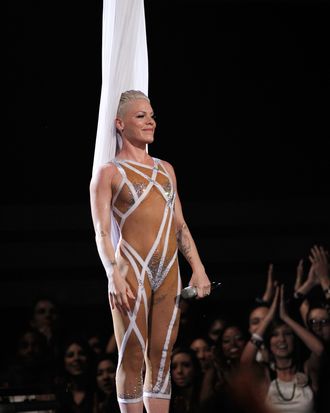 Pink's sideboob and butt crack at the 2010 Grammys.
Photo: Matt Sayles/Corbis
As you may have heard yesterday, CBS issued a "Wardrobe Advisory" discouraging Grammy Awards attendees from revealing "buttocks and female breasts" (gynecomastia is totally fine, apparently). Also against the rules:
Please avoid exposing bare fleshy under curves of the buttocks and buttock crack. Bare sides or under curvature of the breasts is also problematic. Please avoid sheer see-through clothing that could  possibly expose female breast nipples. Please be sure the genital region is adequately covered so that there is no visible "puffy" bare skin exposure. 
These prudish requirements surely have stylists wringing their hands and viewers making alternative plans for Sunday evening. But a smart publicist over at Spanx sensed a golden opportunity, and sent out the following press release today:
SPANX will be doing our part to help by sidelining sideboob and cracking down on crack. CBS and celebs can relax … we've got their butts covered!

SPANX fans like presenters Jennifer Lopez, Kaley Cuoco, and Best Pop Solo nominee Katy Perry are sure to rock their favorites under their frocks.
Then there was a long list of all the Spanx celebrity shout-outs from anyone even remotely involved with the Grammys who'd like to keep themselves in free shapewear for the foreseeable future. To conclude: "Wardrobe malfunctions are a thing of the past, CBS! Thanks to SPANX expect beautiful music and smooth silhouettes on GRAMMY night!" And, with any luck, lots of gratuitous man-nipples.