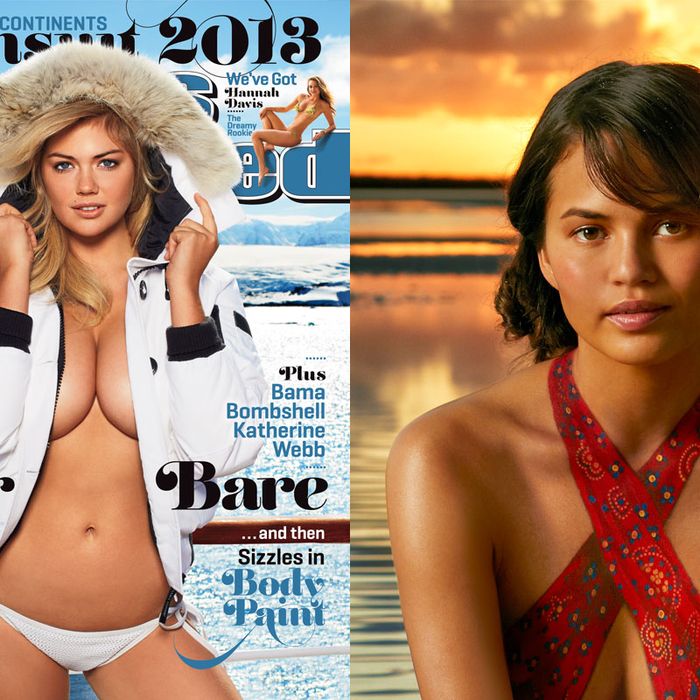 Kate Upton and Chrissy Teigen.
Photo: Derek Ketella/Sports Illustrated, Walter Iooss Jr
Everyone knows that the real highlight of the Sports Illustrated swimsuit issue is the body-painting section. Because the models are naked — but not quite. The woman behind these mesmerizing trompe l'oeil effects is Joanne Gair, a New Zealand–born makeup artist who has worked with the magazine for fourteen years. Her first issue, in 1999, was shot on Richard Branson's Necker Island; she was brought on to do six images, but they came out so well that the publication flew her back to do seven more for a calendar. "I'm a beauty makeup artist first, but skin is skin, and why should there be a separation between the face and the body? I just incorporated the two together," she told us over the phone this week.
Gair made a name for herself in the mid-eighties when she moved to L.A. and snapped up clients like Madonna and Demi Moore. Although she still takes lots of "traditional" makeup jobs as well, body painting became her niche. "People enjoyed it, and it set me apart," she said. "I'm not a special effects person, but my approach is that there's really no limitation to what you can do with makeup." We talked to her about her career, her work with Sports Illustrated, and what it's like to paint a nude Kate Upton.
What was the first "illusion" painting you ever did?
It was actually on the face. I was introduced to a very beautiful young girl of Yugoslavian descent — this was in Sydney, Australia, where I started — and she had bags underneath her eyes that no one could cover because of her bone structure. I happened to have a very exciting pair of sunglasses that I recreated over the bags. They were mirrored, with purple frames. I had to work out the optical illusion there and then — I shortened them to fit in the bag area, and then did a drop shadow to make them pop and stand away from the face. It worked, and it was such a fun, humorous way to use makeup.
You came to L.A. in the eighties; I imagine that was a great time for creative makeup.
Yes. The creativity in the music industry with videos made L.A. a wonderful place for me at that time. Within my first year of arriving, I started working with Matthew Rolston, the photographer. I also worked with Herb Ritts and Greg Gorman. I worked ten years with Madonna — I did the Blond Ambition tour and the Erotica tour, and everything else between. And I did nine years with Demi Moore and any incorporated film, including GI Jane, which was fun. One of the iconic pictures that put me on the map was that Vanity Fair cover with Demi Moore, with the three-piece suit on. I did the pregnant one as well.
There's a lot of optical illusion involved in the Sports Illustrated body-painting. How do you work that out?
For Sports Illustrated, I almost always paint the models' whole bodies, so the girl has absolute freedom of movement, and for the video as well. I also have to think about where the sun will be and the time of day we're shooting, so that I can make the shadows look realistic.
How do the models prepare before you put on the makeup?
There can't be a slippery canvas, so all the girls are briefed on what's necessary beforehand. I need all the hair follicles removed as best they can, otherwise it gets done on the day. Hair follicles only show when you start airbrushing. Even if you think you have none, as soon as you blow air on skin, the follicles stand up and you can see them because they get coated with color. So you need to make sure that's not there, because with high definition you're going to see everything — and I mean everything. So I speak with the girls beforehand and they'll come shaved or waxed, with no moisture on the body.
Do the models tan beforehand?
I always have them come in tanned beforehand. Most of them are spray-tanned, but a number of days beforehand because I can't have any of that residue on the skin when I'm painting. Some of them add to that by lying out in the sun a bit.
Tell me about some of your signatures when it comes to the costumes.
I usually create some movement with the costume so it's not just flat. And some attitude, whether it's straps coming off or bows that are raised with a drop shadow. So I pre-work all of that out, where I'm going to place it, and then I mask the rest of the body with tissue. I don't want any residue sitting anywhere besides where it's meant to be.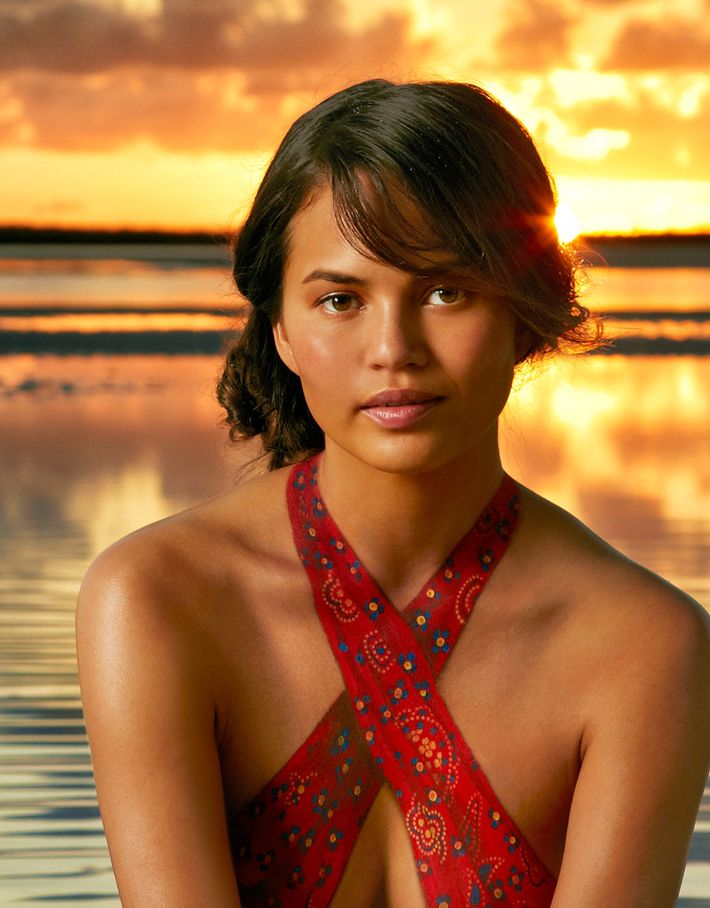 How long does it take you to do each model?
A lot of the shoots take place at dusk, so the photographer can have that magic end-of-day light. I usually try to deliver the model around 2:30 in the afternoon. The whole process takes about twelve hours, plus breaks for lunch and so forth, so I usually start around 1 a.m.
Does the model have to sit or stand in crazy positions while you're painting her?
My two assistants and I make the model as comfortable as possible. Initially, while we're drawing it up, she has to be standing vertically. But she can often get about three hours of sleep once I get the detail in. I actually encourage them to nap, so they're rested. I'll either have her lying down on a massage table or sitting up in a bean bag, propped so we can all be gathered around. We even put eye goggles or fabric across their eyes — it's all about her comfort. If they go off to sleep, we'll just keep on painting and work with the surface area we've got. And then when they wake up we have the opportunity to reevaluate what position they need to be in. She might stretch and then saddle a soft chair with a back on it so we can do the backside.
You're painting some very sensitive areas. I'm sure the models are very professional about it, but how do you handle that?
There were certain poses that are very straight on, and when that needs to be addressed, I make a prosthetic piece that is put on during the painting process, toward the end, and I blend it in. If the pose and the pattern are more friendly, and more busy down there, and if the model is comfortable, then nothing is applied, and it's just paint. It's an option the models have. There's a lot of trust. We're all here to make the picture fabulous, and they know that. So there's a comfort zone, and it's very professional. Many of the models have shot with the photographers before, or worked with the hairdresser, and so on.
Let's talk about Kate Upton's look in this issue. How did you come up with that?
Kate Upton was wearing a famous cover from 2000. I believe MJ Day [editor of the Sports Illustrated swimsuit issue] and the creative team chose that look for Kate partly because of her coloring — Kate is blonde, and the original cover model [Daniela Peštová] was blonde. Also, Kate is so popular, and has such a gorgeous figure to put a necklace on, so it was very appropriate for her to wear that with her body type.
This was your second time painting Kate. What's it like to work with her now that she's gotten so famous in the past year?
I first met Kate when she was 18, and she was so excited. I know a lot of people say this, but it's true — she is completely comfortable in her own skin. She brings a great deal of life to the moment. She knows how to calm down and go into a zen state and relax, but she finds humor in all of it, and really keeps morale up. It's very enjoyable working with a live canvas that has so much personality. She also has gorgeous skin. All the models do.
What was the hardest suit to do this year?
Alyssa Miller was the first, and the original bathing suit we were replicating was made of soft white suede leather, which was very tricky to recreate with paint. Also, white is a very difficult color to use, because there's a lot of powder in the pigments, so it's fragile and hard to provide enough coverage. She was the very first shoot, and when that was over, I was like, 'Okay, I can breathe now.'
Did you have a favorite?
Chrissy Teigen's was very cute [shown above]. The challenge was that the original suit, from 1971, had a long skirt, so we decided to turn it into a short little bathing suit version. I wanted to show a bit of flesh, so we had it blow up on the side so it looks like she's in the wind. The goal is explore the assets of these girls, and what their curves are all about. We want to show healthy, athletic people. It's not about the skinny skinny model.
How has the painting process changed over the years?
The range of cosmetics has gotten bigger, which has taken it to a whole new level. When I originally started working with Sports Illustrated, I was only working with water-based mediums, and now I have a vast choice of pigments and processes that I can use because of how the market has exploded. I work very closely to develop custom-made inks with [special effects makeup manufacturers] Reel Creations; they make pigments that don't come off in water, so the costume can stay on as long as possible. It allows me a lot more freedom, so I just keep challenging myself with where I can take it.