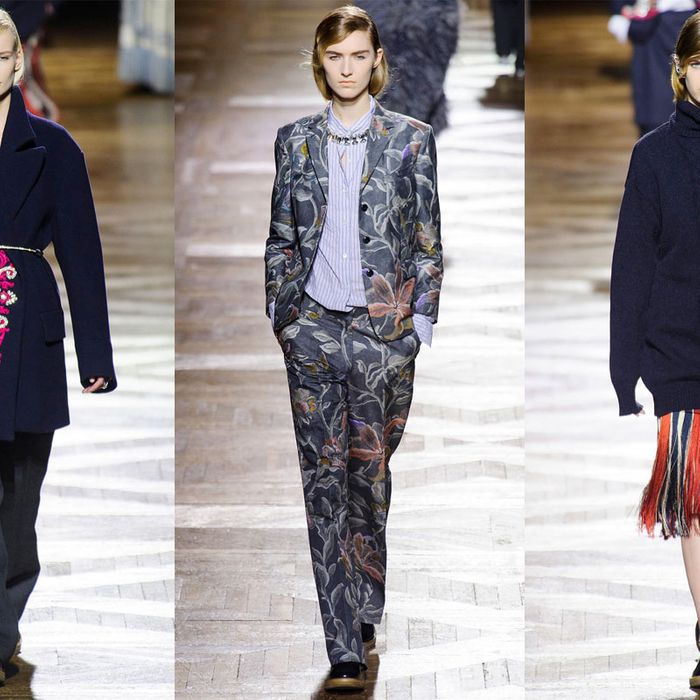 We're live from Paris, where our editorial director is reporting from Fashion Week (albeit in a different time zone).
9 a.m. Wednesday is a light day, which is good because I have slept a total of two hours on the flight. I arrive and meet Azedine, the driver I have heard a great deal about from Amy Larocca. His shiny, shoulder-length hair will be the topic of several conversations with Christina Han when we meet for dinner later. I collapse into bed for a few hours.
1 p.m. From my café in the Marais, I stare at all the cute girls walking around in sheer black tights worn with unlaced combat boots, ombré hair, and cigarettes. Olivier Theyskens strolls by and I am irrationally disappointed not to be wearing my leather Theory pants at that moment.
3 p.m. Dries Van Noten (above) is showing in the City Hall of Paris. Outside a swarm of street-style photographers, including the Cut's own Koo and the familiar Bill Cunningham, snap Elisa Nalin's huge grin and fantastic shock of white hair. The show doesn't start for twenty minutes but the Céline-clad crowd is anxious to get inside. We pass through metal detectors and proceed up a grand staircase with ornate vaulted ceilings.
A cool remix of the nostalgic piano song "Dancing Cheek to Cheek" plays as the models stride out slowly.
Indeed, the clothes seem designed for a modern-day woman that is part Ginger, part Fred. Oversize blazers selectively embroidered with beaded floral moments; fringed dresses over ankle-length pants worn with shiny brogues; colorful, feathered dresses that swayed hypnotically. When the show ends, I watch Anna Wintour literally run for the door, but I linger in the dark cavernous hall and check out the frescoes and chandeliers. Music is playing again. From far away, I spy a live piano player at a baby grand far off in a corner and feel like this might actually be heaven.
4 p.m. I have nothing to do until 6, so I dash over to the Centre Pompidou for a show by the artist Soto. I spend the next hour making Vines, most of which I actually don't post for fear of my phone bill.
6 p.m. APC is predictably cool and understated. Thirty or so editors sit on plush couches in a showroom while a Thelonius Monk record spins. The founder Jean Touitou sits on a stool and explains (in detail) his philosophies on casual dressing as groups of four models come out. Things I learn: The shiny fabrics are made at the factory that supplied Yves Saint Laurent back in the day. The modern woman deserves comfortable shoes (hence the black tights paired with white running shoes). I half expect to see Wes Anderson serving drinks.
9 p.m. Mugler is not messing around with his late show, staged in a cavernous, industrial room with dramatic stage lights. Knee-length, hooded dresses in sorbets and blacks evoke Courréges. But peekaboo cut-outs, bits of muppet fur, and strange seaming keep it from feeling too retro. There is a dance-club vibe to the location and the crowd. I spy Christina and get to catch up on her busy day.
10 p.m. Our attempts to eat at a tiny hipster restaurant are thwarted when we are told there aren't (and will never be) any tables. We settle for a more generic bistro down the street and drink a bottle of wine. Bedtime.