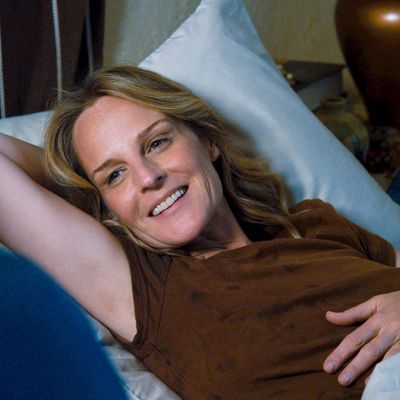 Photo: Fox Searchlight Pictures
If you haven't gotten around to seeing The Sessions yet, you might be a little bit confused by all this Oscar-season buzz about sex surrogacy, the not-prostitution form of sexual therapy conducted onscreen by Best Supporting Actress nominee Helen Hunt. Allow Cheryl Cohen Greene, the sex surrogate who inspired Hunt's character, to explain. She told Salon:
"[G]oing to see a prostitute would be like going to a restaurant, looking at the menu, picking out what you'd like, they prepare it for you, hope you like it enough to come back and refer friends. Going to a surrogate is like going to a cooking school where you get the recipe, you get the ingredients, you learn how to make the dish, you share it, and then you go out and share it in the real world."
There you have it! But instead of teaching you how to cook, they teach you how to overcome your Catholic guilt and other kinds of sexual dysfunction in the most hands-on manner possible. And, no, just because they're quasi-therapists, doesn't mean they don't develop feelings, or occasionally enjoy themselves. They're just way more equipped to deal with it than the rest of us.
"When you do what I do with people, there's no lack of emotion. It's a really good thing to be able to develop some, a friendship, a caring for each other. And I know, I've been with people in the past, and probably [with] clients in the future, where we've gone through so much together and we have an experience like that, and I love them. And I don't feel like holding back and not saying that. But I actually said to Mark[, the basis of John Hawkes's character], 'You can love people right in the moment. And I really love you right this second, or right these minutes. And you're going to have a more rich and more delicious relationship in the future with somebody else that you can have the full type of relationship with.'"
Although, Cohen Greene doesn't totally rule out a "full type of relationship" with clients — she married one! After their sessions had ended, naturally. Say what you will about the ethics of dating one's sexual surrogacy client, but it would definitely take a lot of the guesswork out of sleeping with someone new.