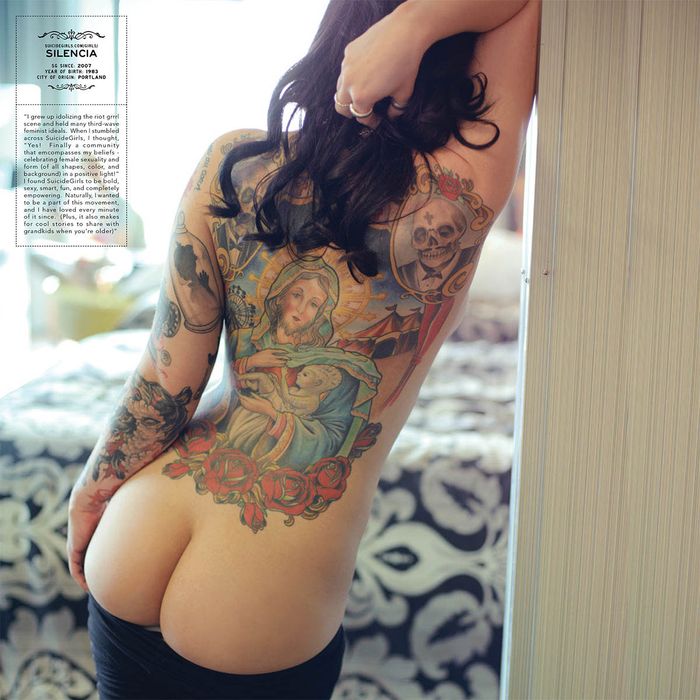 Photo: Courtesy of Suicide Girls
Remember Suicide Girls, the alt-boy dream world where all the tough-looking girls from the Rapture show were naked and let you read their LiveJournals? Readers of a certain age will have used "Suicide Girl" as shorthand for their type — tattooed, pierced, sex-positive, comic-book-literate — or gossiped about lost high school friends rediscovered modeling under campy pseudonyms like Calypso and Killa.
Founded in the early aughts heyday of alt-porn alongside sites like SuperCult and Burning Angel, Suicide Girls was a pioneer of woman-produced, body-positive Internet erotica. The women were real — and not just physically. They were also interactive, cultivating minor celebrity in forums, blog entries, webcams, and national burlesque tours. (Incidentally, it's also the site of one of the Internet's oldest and most steadfast pay walls, charging members $4 a month since 2001.) For years, alt-weeklies covered the models' defections, gripes, and ideological infights like they were senior White House staffers, but by the time Sasha Grey — a self-possessed, dark-haired porn megastar the alt-porn layperson might once have mistaken for a Suicide Girl — declared the pinups ubiquitous in a 2009 Rolling Stone profile ("As far as I'm concerned, Suicide Girl types with black hair and tattoos are the new blondes with bolt-on tits"), it seemed the site and had outgrown its counterculture cred.
So it may please nostalgists to know that Suicide Girl lives on, building its insistently alternative lifestyle media empire on an increasingly international membership. "We now have models on every continent, including Antarctica," founder Missy Suicide told the Cut by the phone last week. To celebrate the new blood, Suicide Girls has put out its first book in five years, Hard Girls, Soft Light. Keeping pace with amateur erotica on Tumblr, the Hard Girls trades Suicide Girl's signature porn-influenced portraits for naturally lit shots just realist enough to preserve the fantasy. "The aesthetic on the site has really shifted over the last few years," said Missy, the book's editor. "It's almost like you're waking up next to them."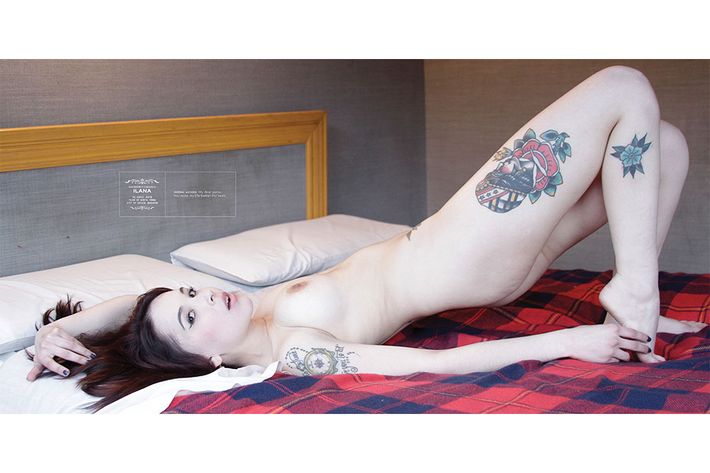 I always had the impression that Suicide Girls was more for women than it was for than men. Is that true?
Women are about 51 percent of our membership.
Why do you think that is?
I think all women want to feel sexy and there's something sexy without being off-putting about the Suicide Girls. We've got over 2,500 models of very eclectic body types, every variation under the sun. I get e-mails from women all the time saying they didn't feel beautiful until I saw this or that Suicide Girl and she's beautiful even though one boob is bigger than the other one or whatever. It shows that whatever flaws we perceive about ourselves, if you're confident and you don't care, no one else is going to care. Plus, the Girls themselves are in charge of a lot of it. They do their own makeup and their own styling. Oftentimes the shoots will be in their actual bedroom or a location that is actually pertinent — them being themselves and the photographers capturing their sexy unique nature.
Has the Suicide Girls look gone mainstream?
We're definitely not trying to appeal to that demographic.
Right. I guess what I meant is, has the mainstream gone more Suicide Girls?  
Girls with piercings and tattoos are being a bit more accepted as beautiful. It's not the same visceral negative reaction as when we started the site. Society as a whole is beginning to see past the body mods, they're not just automatically judging the book by the cover.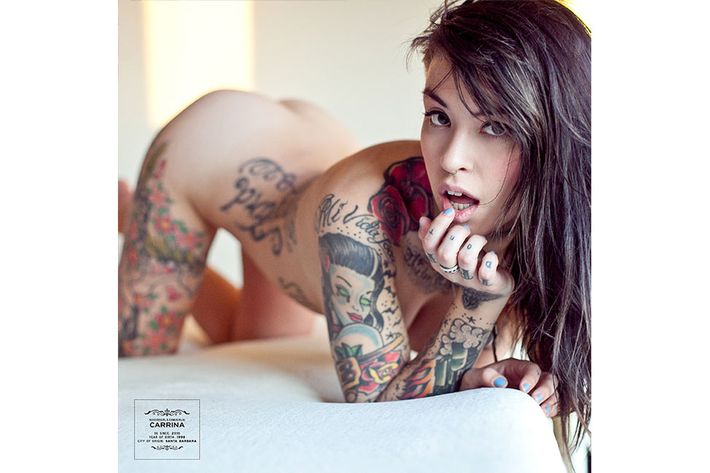 Not long ago you were self-censoring bondage-y Suicide Girl photos in anticipation of the Bush administration's war on "deviant" porn. Now every housewife in America's read Fifty Shades of Grey.
I know. There's a thing at Icing, a mall store where girls get their ears pierced: Fifty Shades of Grey accessories. That's bananas to me. If the mall store is selling bondage-lite accessories that's a different sort of world.
How have trends in body modification changed since you started?
A lot more Girls have dermal piercings, like the bindi dermals. That maybe didn't happen four or five years ago in the same way. Girls are more heavily tattooed. Before it seemed like a girl would have one or two tattoos, now it seems like there are more girls with six, seven, eight, nine, ten tattoos.
Has the type of woman who becomes a Suicide Girl changed since the last book came out in 2008?
The Girls have become more international. In the States we tend to be a little bit prudish, raised with hangups about our bodies Woody Allen–ing around in our heads. The Girls from Colombia or Italy are just not raised with the same sort of peccadilloes. Their influence on the site has made a lot more of the girls a lot more confident. The Girls have always felt very comfortable but in the back of your head you're always kind of doubting yourself. Having the influence of people that are just like, "It's art, the female form is beautiful, there's pictures of it in every art museum in the world. Why should I feel dirty or weird?" … that kind of takes the stigma out of it.
A recent National Enquirer scandal in which a reality television star was "outed" as a former pinup made me wonder: What happens to a Suicide Girl after she grows up?
You can take down the profile and the journal, but you can't really undo the photographs. Once that's out there, it's out there. It's kind of like a tattoo. It's this nice reminder, "Oh yeah, I was once young and crazy and did this thing." We have models that are now lawyers and directors, their lives have taken them in a more conservative direction. That's possible these days, the stigma isn't as strong. We recently had a whole slew of girls that modeled in their twenties and left come back. They had archived their profiles because their lives were changing or evolving in way that Suicide Girls wasn't the right fit for, and they were like, "You know, I miss the community. I miss talking to my friends about comic books or horror movies. Is there any way I can have my profile back?"