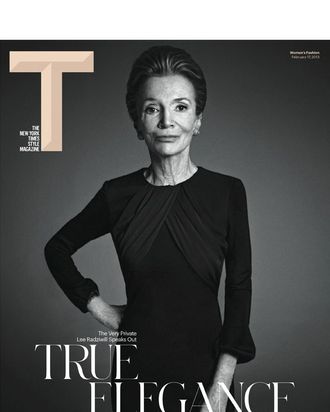 In today's Times, public editor Margaret Sullivan addresses the new T and "one aspect of the magazine" readers found "disturbing — its lack of people of color." From one letter: "As near as I can tell, there was one black face in the entire magazine, as many as there were purple plastic faces"; from another: "I assume the ads cannot be controlled, but I saw only one African-American and one Asian-American among the thousands of models in the ads. The T doesn't look like my neighborhood or America." Sullivan agreed with the observations, calling the issue "overwhelmingly white," and reached out to editor-in-chief Deborah Needleman for comment.
Needleman responded, "It was something I noticed and regretted as we were putting the issue together. We are a global magazine and so would like the content, subjects and geography of stories to reflect that. In coming issues, we cover the people and places of Seoul, São Paulo, Kenya, Bollywood actors, Nigeria, etc. A majority of fashion models are still unfortunately mostly white, but it is our aim to celebrate quality and beauty in all its diverse forms." Her remark about models comes a day after we published our roundup of New York Fashion Week's most-booked faces (all white), and the release of Jezebel's report on runway diversity (conclusion: Fashion Week's models are getting whiter). It's reassuring to hear that someone at the top of a major masthead recognizes the trend.
She continued, "We can and will aim to do better, but our goal is first and foremost to deliver the best stories we find, and it is my belief that quality and good journalism appeal to all of us regardless of our specific ethnic origins." And Sullivan will hold her to all of it; the newest public editor doesn't sidestep fashion-related topics.