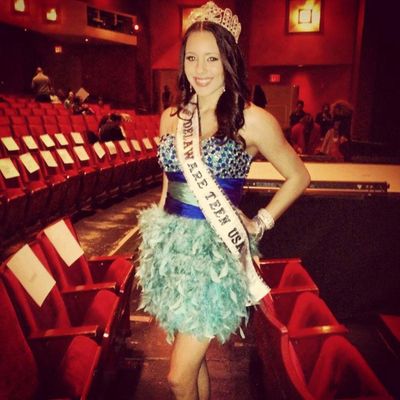 Photo: Melissa_M_King/Twitter
Miss Delaware Teen USA Melissa King resigned today amid allegations that she filmed hardcore pornography in the months between her 18th birthday and her big pageant win, the Wilmington News Journal reports. In a five-minute video featured on a "real amateur girls" website, a person rumored to be King sits on a hotel bed and admits to being "a Miss Teen." She says she decided to do porn because "I thought it'd be fun and it sounded like I needed the money."
After initially denying the sex tape, King hasn't elaborated on her resignation. (She has, however, re-tweeted encouragement and told a detractor to "fuck off" and "#gotohell.") Needing money is something she had discussed before. After spending her teen years in foster care, King used her platform as Miss Delaware Teen USA to discuss the experience: "You don't have a lot of money to pay for things that you normally would want," she said in a tiara-clad interview about foster care. "Like gowns, clothes, shoes, prom, sports, anything really." Transitioning out of foster care "is rocky" in part because "there's no money out there. There's some, but there's not enough."
Among the features that pageantry shares with pornography is a compressed aging process, rushing women from Miss Teen to Miss to Mrs. (or from teen to MILF) in a few short years. When King turns 19 next month, she will be only three years younger than Miss Delaware USA Rachel Baiocco, who is 22.
Likewise, when then-21-year-old Miss California USA Carrie Prejean fought the release of her sex tape, she noted repeatedly that she was a mere "teenager" at the time she filmed it. Back in 2006, disgraced Miss USA Tara Conner faced allegations both of drug use and of "kiss[ing]" her Miss Teen USA counterpart Katie Blair while "danc[ing] all sexy on the tables."
So it's no surprise, really, that a Trump-owned system rewarding women who look good in lingerie and are clustered around the age of 18, would also feed the porn industry. It's more surprising when a pageant season passes without a few porno tie-ins. Usually, though, it is pornography, not pageants, that forces us to endure the word teen in explicitly sexual contexts.