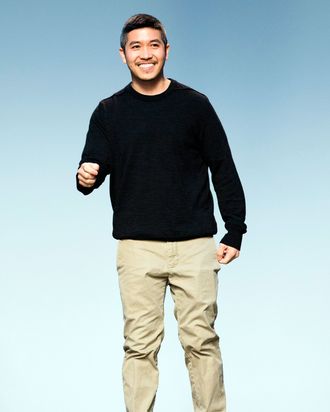 Photo: John Minchillo/Corbis
Even before the last remnants of boob tape and mink eyelashes are swept out of Lincoln Center, Thakoon Panichgul is already dreaming up his next collection. When we caught up with him at Barneys for the launch of Sharon Socol's book, Plus One, he told us he's already become inspired at his house upstate.
"I started thinking about [the next show] on Saturday," he says, explaining he fled the city for some sober respite over the weekend. "I have a house in the Catskills and I went there right after and that really energized me." Apparently it got him thinking, too. "Oh my God, it's kind of weird, but I've seen things in the Catskills that are — can I say 'white trash'? and I'm like, 'wait a minute, that's kind of genius.'" In a Honey Boo Boo way, or surely something more highbrow? "I won't go into details, I need to keep it a secret," he insisted. We'll wait patiently, if only to see Michelle Obama in a designer Nascar T-shirt someday.