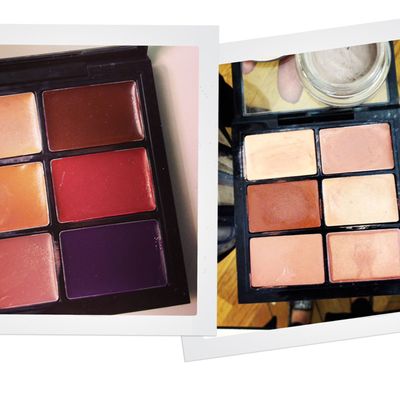 "There's a sense of sensuality in creams," makeup artist Lyne Denoyers told us backstage at Piece d'Anarchive. "It brings back the idea and feel of skin." Her models' faces got the mauve treatment with MAC cosmetics' Pro Lip Palette in Modern Browns (right), where she used her fingers to dab a blend of the top two lip shades (Peachstock and Half and Half) to mouths.
Downstairs at the Sharon Wauchob show, makeup artist Lloyd Simmons used a new fall palette (left) on lips and cheeks. Taking his finger to the two pinker shades, he dabbed it onto the lips to amplify their natural lip color. For the cheeks, he again used his fingers to blend the center right shade to create a "lip stain effect" on the face. "It just looks really natural and blended, like a flush," he said of the product's creamy texture.
Last night at MUGLER, Charlotte Tilbury created a coral lip color (inspired by Tippie Hedren) by dabbing on a blend of Peachstock and Paramount from the Modern Browns palette onto the lips first, then giving it an orange kick with Runway Hit lipstick (available next fall) on top.